The dynamic growth of the high-tech industry in Santa Clara has spilled over into hotels, airports, universities, and a new football stadium. Some of this is new, but most is a renewal of the kind most communities would die for. On my recent visit we stayed at the Hyatt Regency Santa Clara with a view of Levi's Stadium and downtown San Jose in the distance.
The Stadium
Santa Clara is as much the capital of the Silicon Valley as any of the adjoining cities that make up this mecca of high tech. It is now also home to the San Francisco 49ers with their $1.2 billion venue, Levi's Stadium. I recently had a chance to take in a game there at the Foster Farms Bowl between Stanford and Maryland.
Modern stadiums like this one are worlds apart from their ancient predecessors like Candlestick Park and the L.A. Coliseum. Many of the seats are cushioned, and then there is the club level seating. This area is like watching the game at your favorite restaurant. Outdoor seats flow into multilevel glass bar/restaurant areas with no waiting for your favorite beverage or food item. Of course the game is on large TVs everywhere so you will never miss a play. This is not the beer and hot dog crowd. More like pinot noir and exotic chicken entrée or even sushi crowd.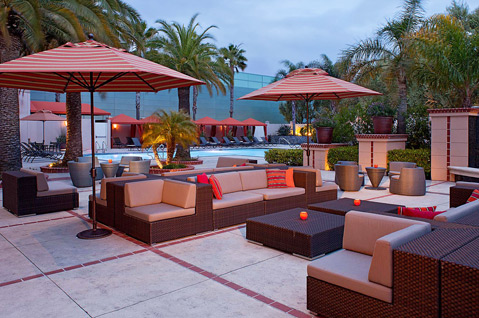 By Courtesy Photo