"The word 'no' is not an answer," said David Oyelowo, who proved to be the most fascinating of the seven actors honored in this year's SBIFF Virtuoso Award, as well as its wisest. "It's just an obstacle to doing what you really want to do."
He was summing up after getting his SBIFF award but also describing the road from first reading Selma's script back in 2007, to finally acting it. He was fired from the film, he said. "I'm not going to tell you who the original director who did that was," he said. "David Frears," he added. But the script's passage through studio hands eventually brought Oyelowo back into the film in the aftermath of The Butler and Twelve Years a Slave's financial successes. He brought director Ava DuVernay in to complete Selma. "So I went from being fired to hiring the director." He also spoke most movingly of making movies where black protagonists are more than subservient or criminals, drawing applause.
Photo Gallery
2015 SBIFF Virtuoso Awards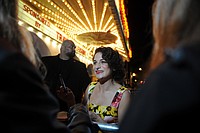 If Oyelowo's was full of righteous probity, fan favorite Logan Lerman's was the portion of the evening that seemed most evasive and naïve. Lerman, who starred in Fury, seemed not to understand that his character was ultimately portrayed as a coward, and he also confessed to being "annoying" on the set. In rehearsals, other actors — many of them he said — decided to "strangle" him on the floor of the rehearsal hall. (Yikes!) "We were very close," he mumbled. Lerman's self-characterization as a "nonconformist" seemed more like self-important American actor cliché-making, though the young in the hall were crazy about him anyways.
As always, this was one of the best shows at the fest and particularly with Dave Karger, of Fandango and a number of other media outlet fame at the helm for his fifth outing. Karger draws people into conversations but doesn't neglect the elephants in the room, such as Oyelowo's exclusion from Oscar nominations or J.K. Simmons's convincing horribleness as an arch-villain. He also got Chadwick Boseman to speak movingly about learning to dance and being "possessed." "There are some roles that are jobs," said Boseman of his turn as James Brown in Get on Up. "This was not a job." Ellar Coltrane provided insight into avoiding trauma on the set of Boyhood, with "blissful ignorance" serving him as a child actor. Rosamund Pike (Gone Girl) described what a possible "recipe for narcissism" it was to be "playing somebody playing somebody else," and how to practice slicing throats with a box cutter (luckily, in a butcher shop). J.K. Simmons topped everybody by quipping large on snapping back from the role of a heavy. "Have you met Miles Teller?" he joked referring to his Whiplash co-star. "I'm pretty sure most pretty-boy movie stars need to be slapped. It's a rite of passage."
It was a great rite of wit, wisdom, and movie lore conducted by an interviewer with lots of personality and an ear for eliciting the quotable. The finest moment of the evening came when Simmons was asked how hard it was to do a scene that demanded such a shift in his level-headed persona. "The hardest scenes to do are the ones that are the poorly written ones. There were none like that in this film."