The calendar says spring is six weeks away, but you wouldn't know it from the flowering trees and the activity on college baseball diamonds. Westmont College has already played nine ball games. Santa Barbara City College got its season underway with a three-game series last weekend. UCSB is gearing up for its season opener next week.
In parts of the country that are deep in winter snowfall, baseball fans keep up with the sport at "hot stove" gatherings. Santa Barbara has one of those, too.
FORESTERS GABFEST: Ryan Spilborghs, who graduated from the Colorado Rockies' outfield to the club's broadcast booth, will be the guest speaker at the Santa Barbara Foresters' annual Hot Stove Banquet on Sunday, February 8, at the Earl Warren Showgrounds. Spilborghs was a standout at Santa Barbara High and UCSB, and he played summer ball with the Foresters before moving on to the pros. He became a charter member of the Foresters Hall of Fame in 2010.
Three new members will be inducted Sunday: Virgil Vasquez, another former S.B. Don and Gaucho, who pitched for the Detroit Tigers and Minnesota Twins; Mike Pearl, a longtime community supporter of the Foresters; and Neil Medchill, who took a significant page out of Forester manager Bill Pintard's playbook.
Besides turning out one of the most successful amateur teams in the country ― the Foresters won their fifth National Baseball Congress World Series title last summer ― Pintard connects his players with children suffering from cancer and other grave diseases. Medchill, an outfielder with Santa Barbara's 2008 champions, was playing last summer for the Sugar Land (Texas) Skeeters, an independent pro team, when he put his career on hold to donate life-saving bone marrow to a complete stranger.
"It's an unbelievable story," Pintard said. Besides hearing all about it, baseball fans attending the banquet, starting at 6 p.m., will be able to sign up for a bone-marrow registry. Ticket prices in advance are $75 for adults and $20 for students 18 and under. At the door, prices will increase by $20. Visit sbforesters.org.
THROWING HEAT: UCSB staged an intrasquad game last Friday, and when junior right-hander Dillon Tate began his four-inning stint on the mound, a dozen major-league scouts swarmed behind the backstop with radar guns drawn. They looked like a SWAT squad. Tate's fastball was clocked at 95-96 mph. He was a lights-out closer last year, and Gaucho coach Andrew Checketts is looking to put him into the starting rotation. Also getting the scouts' attention was lefty Justin Jacome, a tall junior with good command.
Tate has been tabbed as a Preseason All-American by three publications: Baseball America, Collegiate Baseball, and Perfect Game. UCSB has been placed in early top-20 rankings, and Perfect Game predicted the Gauchos would win the Big West Conference, one of the nation's strongest baseball leagues.
The Gauchos will play 12 of their first 13 games on the home diamond at Caesar Uyesaka Stadium, starting with BYU on Friday, February 13.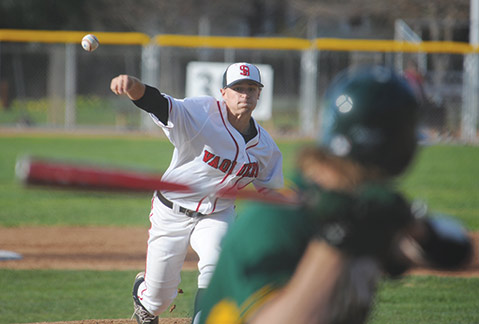 By Paul Wellman