Public Health director Dr. Takashi Wada might not have known he was going into government affairs when he started med school, but now that he is entering his fifth year as head honcho of the county department, his job has become quite politically charged.
Driving the current debate around vaccinations is a recent outbreak of measles that originated at Disneyland in December and has infected 121 people in 17 states. No cases have been confirmed in Santa Barbara, but a number of false alarms and 11 cases in Ventura County have made health officials sweat, and for good reason.
Pockets of Santa Barbara County ​— ​typically affluent ones ​— ​have some of the highest vaccination opt-out rates in the state. Many parents are choosing to not fully vaccinate their children for "personal belief" reasons. Montecito Union School, for instance, had a 27.5 percent opt-out rate last school year. That's triple the amount from 2007. Last year at Washington and Roosevelt elementary schools, 16 percent of parents filed exemption forms. At Monroe and Santa Barbara charter schools, 17 percent of children were not fully vaccinated. These numbers have reportedly stabilized or decreased somewhat this year.
Doctors say high exemption rates can be troublesome for communities because it effectively nullifies the benefits of herd immunity, which occurs when 90-95 percent of children have gotten their shots. A vaccinated child could still be vulnerable to diseases thought to be preventable ​— ​measles, pertussis, mumps, meningitis ​— ​as immunizations are not 100 percent effective. What's more, herd immunity protects babies or a child with a medical condition who cannot handle vaccinations. Virtually all students at Franklin, Harding, and McKinley elementary schools have been vaccinated. The same is true for public elementary schools in Santa Maria.
Ever since the polio vaccine became mandatory for public and private school children in 1961, parents could file a "personal belief exemption" with the school nurse's office. The catch is that if an outbreak occurs, unvaccinated children are banned from school in the Santa Barbara Unified district. On Monday night, Hope School District boardmembers voted to implement a similar ban if exposure to a disease occurs in their district. Earlier this year, an outbreak of pertussis, or whooping cough, occurred at the Waldorf preschool on Hope's Vieja Valley campus. At Waldorf, 31 percent of children are not fully immunized against pertussis.
"By and large the people who chose not to immunize [in Santa Barbara] were very well versed and educated with regard to the pros and the cons," said Dr. David Hernandez, who worked with a number of anti-vaxxers in his private practice 20 years ago. Often, he said, patients looked to homeopathic remedies and alternative ways of healing. "That's a separate population than people who just don't get around to it," he said.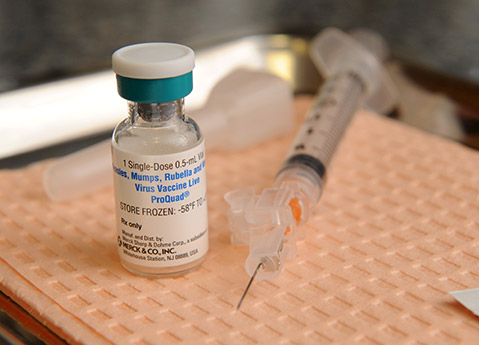 By Paul Wellman