If Eric Foote's drone could talk, it might borrow a line from an android in Blade Runner: "I've seen things you people wouldn't believe."
The remote-control eye in the sky has skirted a train barreling up the Gaviota Coast and looked down on paragliders drifting along the Douglas Family Preserve. It's followed a surfer slicing through glassy ocean above thick kelp forests and trailed a rock climber inching up the Santa Ynez Mountains. It's flown with pelicans above the Santa Barbara Harbor and peered across a sun-baked city from the Mission's steeples.
Those moments are neatly packaged in a four-minute movie that played during the Santa Barbara International Film Festival and gave Foote's new aerial video company its big break. "Things really started taking off," he said. The former golf instructor had been a photography hobbyist for a long time and now pays the bills with real estate shoots and promo reels for places like Lotusland. With lots of competition in town, "I'm using the drone to carve out a niche," he explained. "There are so many applications for it."
But Foote, like thousands of commercial drone operators across the country, including a number in Santa Barbara, has been navigating hazy skies the last few years, as government regulations hadn't caught up with the new technology. That all changed Sunday when the fog started to lift and the Federal Aviation Administration (FAA), finally acting on orders from Congress in 2012, released its proposal for governing the small commercial aircraft instead of banning them outright.
The proposed rules would allow drones weighing up to 55 pounds to fly below 500 feet and within sight of their pilots during daylight hours. Operators would need to be at least 17 years old, pass an aeronautics knowledge test, and be vetted by the Transportation Security Administration. "We have tried to be flexible in writing these rules," said FAA Administrator Michael Huerta. "We want to maintain today's outstanding level of aviation safety without placing an undue regulatory burden on an emerging industry."
The FAA will start 60 days of public comment on the suggested guidelines, but industry experts predict it will take another year or two before they're fully ironed out and implemented. In the meantime, commercial use is still outlawed, and operators will keep burying their drone services in contracts, billing for "location fees" and other costs instead of actual flying time.
Luckily for them, the current regulations are open to interpretation and rarely enforced. There have been just five cases to date, and the closely watched prosecution of the pilot who filmed a TV spot over the University of Virginia in 2011 ended out of court this week. The pilot was originally fined $10,000. He wound up paying a $1,100 settlement without admitting any wrongdoing.
The FAA does allow for some commercial use but only with express permission, which it started giving out last year, mainly to Hollywood film studios and crop surveyors. A mere 28 exemptions have been issued with around 350 pending nationwide. Sunday's announcement doesn't apply to hobbyists, who are already supposed to follow basic guidelines for model planes and helicopters ​— ​stay below 400 feet, avoid populated areas, fly sober, etc. And public entities, such as publicly funded universities, law enforcement agencies, and fire departments are still required to get FAA clearance before they can launch a drone, also called a UAS (Unmanned Aircraft System).
Most trade groups and business interests are applauding the new commercial framework. They've long argued that drones are a transformative technology for a whole range of fields like search and rescue, medical support, power line and pipe repair, and wildlife observation. The Association for Unmanned Vehicle Systems International predicts the industry will create 70,000 jobs and $13.6 billion in economic activity in the first three years drones are allowed to fully share the skies. Doorstop deliveries like those envisioned by Amazon.com still wouldn't be allowed, however.
Also this week, the White House ​— ​whose lawn became a symbol of UAS intrusion when a drunkenly flown drone crashed into it last month ​— ​issued a memo that orders federal agencies to disclose their drone policies in the next year. Their use along the Mexican border is no secret, but new covert programs are expected to quietly materialize.
Concerns linger across the country over privacy and First Amendment rights. It's no exception in Santa Barbara, a wealthy and picture-perfect place covered in grand estates, open-air weddings, and scenic vistas that seem to beg for more and more airborne lenses. And the discussion is only gaining momentum as daily reports come in of close calls with crowds and planes and incidents of spying among neighbors.
A recent Reuters poll of 2,400 Americans found that 73 percent of them want more drone regulation; 42 percent oppose all private ownership. In a speech last September, Supreme Court Justice Sonia Sotomayor openly worried about an American dystopia of ever-present surveillance as swarms of cameras take to the sky. "We are in that brave new world," she said, "and we are capable of being in that Orwellian world, too."
It's a Bird! It's a Plane! It's a … ?
Up until a few years ago, the word "drone" described a $17 million Predator skulking above Afghanistan. But as the technology was dumbed down for civilian use and prices dipped to consumer levels, the term started to include $50 toys at Brookstone as well as professional-grade units for photographers.
Chinese company DJI makes one of most popular brands. Chances are, if you've seen a drone on the job, it's in the DJI Phantom line that retails between $500 and $1,300. I've personally spotted four drones in the last few months ​— ​at the Santa Barbara Bowl, East Beach, Isla Vista, and the Mesa. All were Phantoms. And any time there are good waves at Rincon, there's bound to be one or two overhead.
The DJI models are about a foot and a half wide, weigh 2.5 pounds, go as fast as 30 mph, and sport four propellers above a battery pack and rigid landing gear. Called "quadcopters," they take off and land vertically and are relatively easy to maneuver with a bit of practice.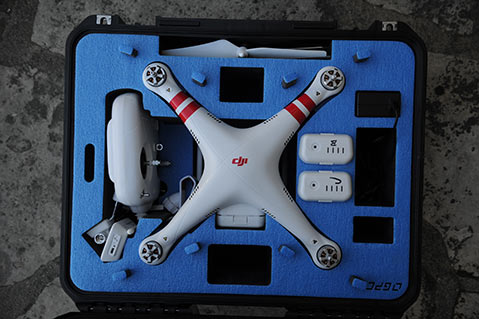 By Paul Wellman