The 113-year old Grace Lutheran Church in Santa Barbara, facing the inevitable after decades of declining membership, closed its doors forever last Sunday as a house of worship in the Lutheran faith, leaving its aging members, all 42 of them, unmoored but unshaken in their mission.
Since the 1970s, the A-frame church at 3869 State Street had always been a place where a homeless person could get a blanket and a meal. Now, to establish a more enduring legacy, the congregation is bequeathing all of its land to help the poor – two acres worth $7.5 million in a major shopping mall.
On one acre, the Housing Authority of the City of Santa Barbara plans to demolish the church and build Grace Village, a three-story structure with 60 rental apartments for low-income seniors, in accordance with the congregation's last wishes. The remaining acre, which is under commercial lease, will generate more than $100,000 yearly to help house and feed the needy, church leaders said.
"The way they're using their property is extraordinarily admirable," said Rev. Mark Asman of Trinity Episcopal Church. "Numbers don't always tell a story. I'd measure the size of their heart and say their heart is alive."
Among Grace Lutheran members, the satisfaction of giving has been tempered by grief over the loss of a "church home." They had been pondering their options for 10 years before voting last spring to proceed with closure.
"This is extremely painful and even a little divisive," said Barbara Wagner, a church council member who first started attending services at Grace Lutheran in the late 1970s with her husband, Martin Scharlemann. "It wasn't a smooth process. It's hard to imagine not having that church in our lives. They are the sweetest, most determined-to-do-good people I've ever met.
"We're going to enter a period of mourning – and then we're going to look for a church that has lots of young people."
Grace Lutheran's founders held their first worship service in 1902 and bought a church on Anacapa Street in 1906. The current property was purchased for $200,000 in 1956 on a lemon orchard and dairy farm. But membership peaked at just under 200 in the 1960s and dropped steadily after that, church leaders said, mirroring a 40-year decline in mainline Protestantism across the country. Beginning with the Sixties rebellion, scholars say, many young Americans shifted to less traditional, more unscripted evangelical churches, or they dropped out of organized religion altogether.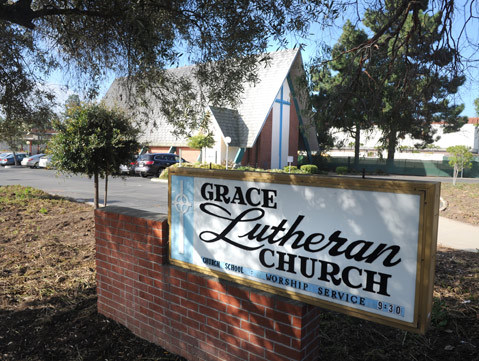 By Paul Wellman