Last June, after the Water Guardians waged a swift movement to get Measure P placed on the ballot, the price per barrel of oil was $105. Five months later, after producers in Santa Barbara County launched a well-funded and concise counterattack to defeat the drilling ban, worldwide prices had tumbled to $65.
Throughout the last election season, supporters of Measure P argued it would stanch future oil development, namely the increasingly popular — and what they said was increasingly risky — cyclic steam injection method. Opponents alleged Measure P would mean an end to the entirety of the oil industry here and certainly an end to their plans for steam injection wells.
Now, two months post-Election Day, the price per barrel of oil has plunged to $46, only three dollars more than it cost in the throes of the recession in 2009. The average gallon of gas in Santa Barbara costs $2.63, but, as of Tuesday, it was as low as $2.45 at some pumps (with the notable exception of Glen Annie). But what comes as good news for drivers — industry analysts predict $40 per barrel before OPEC puts on the brakes — could be bad news for domestic operators.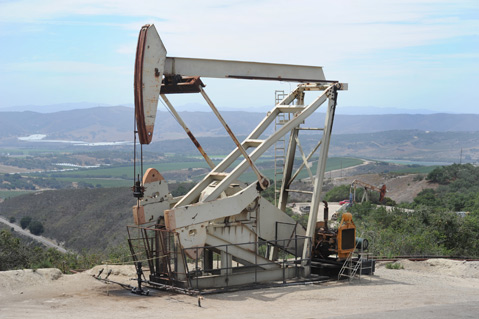 By Paul Wellman