Varsity soccer center midfielder Jesse Gonzales led his team to a CIF championship after an incredibly good season. It was 2010, and 8,000 people had packed Harder Stadium to see the Santa Barbara Dons crush the Dos Pueblos Chargers. Gonzales and his teammates had become stars. Everyone was talking about them.
Soon after, Gonzales and a few friends popped into the career center, where they regularly hung out at lunchtime. To people passing by, the crowded room kind of looked like chaos, but to the many students who showed up daily, the career center was like a sanctuary. There they could eat lunch, find out about job opportunities, and receive academic or personal advice.
The driving power behind this sanctuary was the "career lady" Alejandra Gutierrez, Ale for short, whose kind demeanor, big brown eyes, and infectious smile softened her determined probing of students.
"What's your plan after high school?" the then-26-year-old Gutierrez pressed the soccer stars, still basking in their athletic glory and trying to forget that there was life after high school. Graduation in a few months seemed like an eternity away. They hadn't thought much beyond getting a job or maybe enrolling in a City College class.
Not if Gutierrez had anything to do about it. A big soccer fan herself, Gutierrez recognized the varsity players were really talented and could use the determination and focus they learned on the field in a college setting. Within days, she had them apply for college, busting out personal statements and revising their essays based on their teachers' critiques. "She definitely got our feet back on the ground," Gonzales said.
The following Sunday, she held an impromptu meeting with their parents at 8 p.m. in the center. She wanted their permission to drive the students up north for an unofficial field trip to the Bay Area to visit the small, private college Notre Dame de Namur University. With the help of Franklin Elementary School Principal Casie Killgore — the two first met when Gutierrez was a high school freshman in 1997 — Gutierrez had arranged for the boys to meet the university head coach and play for a trial run. Shocked by the opportunity, the moms broke into tears.
Ultimately, three of the four boys were accepted to the small school. Gonzales received a full scholarship, and he graduated last June with a degree in kinesiology. His success, Gonzales said, "had a lot to do with Ale's influence."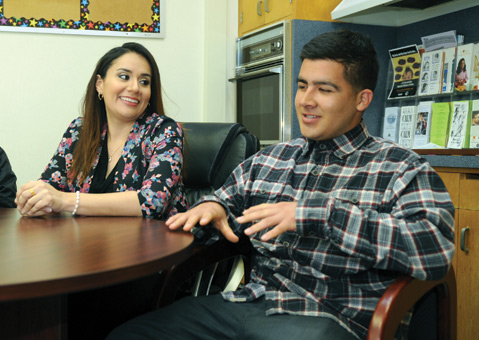 By Paul Wellman