Linda Louise Archer struggled with heavy-duty mental-health challenges that eventually hurled her onto the streets of Santa Barbara. During the last few weeks of her life, those struggles intensified. The 43-year-old mother of two ​— ​remembered as being quiet, subdued, and better groomed than one might expect a homeless person to be ​— ​grew increasingly agitated that she was in physical danger. People, she told friends, were out to get her. For protection, Archer armed herself with mace. She carried a knife.
Archer may have been mentally ill, but it turned out she was far from crazy. On August 16, 1997, someone bludgeoned her to death, repeatedly smashing her face and head with what was most likely a tree stump. Archer's body would be found in a concrete culvert visible to drivers getting off Highway 101 at Castillo Street. The knife she kept for protection had been stabbed into the ground just a few inches from her body.
Twice police investigators thought they had Archer's killer. Twice they would be proved wrong. And for the past 18 years, her murder would remain almost as big a mystery as her life. Archer joined the ranks of 26 other unsolved murders ​— ​the earliest dating back to 1961 ​— ​that make up the Santa Barbara Police Department's Cold Case file.
In the warren-like basement of police headquarters, there's a cramped storage room known as the Dead Room. Jammed inside are boxes containing all the physical evidence accumulated for Santa Barbara's cold cases. There are 20 for the Archer investigation. In addition, there's the blood-splattered tree branch found next to her. The actual murder weapon is stored elsewhere. So are seven binders containing more than 1,000 pages of notes.
Now leading the investigation is Detective Andy Hill, a 17-year veteran of the department. Hill was born and raised in Santa Barbara, graduating from San Marcos High School. Solidly built but not big enough to seem physically imposing, Hill ​— ​to a striking degree ​— ​does not radiate cop. He genuinely likes to talk. He's inventive with language. He's an even better listener. It's a big part of the reason people tell Hill things they shouldn't.
About a year ago, an on-again, off-again Santa Barbara resident named Manuel Salmeron Manzanares told Hill some things he probably shouldn't have. Those things had to do with Linda Archer.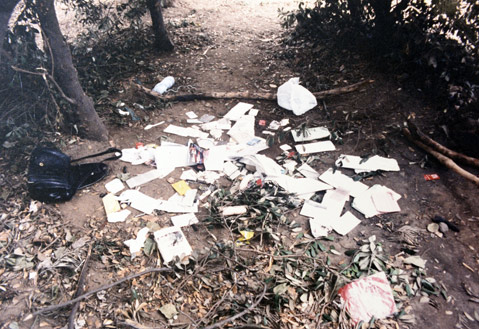 SBPD