A distraught 27-year-old Santa Barbara man driving an RV led police officers on a violent car chase Monday afternoon during which the suspect hit a school bus full of children and caused an accident between a motorcycle officer and police cruiser.
At 1:49 p.m., officers responded to reports of a domestic disturbance on the 2500 block of Anacapa Street where the RV was parked. They made contact with an injured woman, and she was transported to Cottage Hospital. Her condition is unknown.
The man, who has not been identified, stayed inside the RV and refused to come out. At 2:06 p.m., he sped off, hitting a number of police cars in the process. Officers followed him, but because he was driving so recklessly and posing such a risk to the public with the police right behind him, the chase was called off, said SBPD spokesperson Sgt. Riley Harwood. The suspect's movements were monitored from a distance, Harwood said.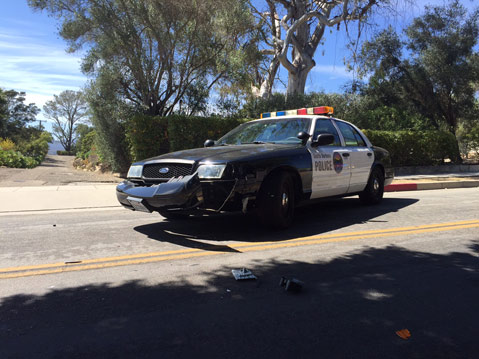 By Courtesy Photo