The Santa Barbara Bowl, one of the eco-friendliest music venues in the country, just got greener on Tuesday, July 21, when the musical environmentalist power couple Jack and Kim Johnson gifted the amphitheater with a custom water-refill station. The Johnsons donated the station as a reward for being declared a "Green Leader" winner of Jack Johnson's All At Once Sustainability Award late last year, which recognizes environmentally friendly and green-thinking venues.
The Bowl is one of three in the nation to have received the water-refill station, along with fellow Green Leader Merriweather Post Pavilion in Maryland and Emerging Green award recipient Nikon at Jones Beach in New York.
"The Bowl is one of our favorite local gathering places, and we are so proud to be able to contribute," Jack said. "It really is a special place, and we always feel inspired coming here." He hopes this and other greening initiatives the Bowl employs will inspire younger generations who visit the venue to continue environmentally friendly practices.
The water-refill station builds upon the forward-thinking practices the Bowl has put in place as part of its carbon-neutral program, the Greening the Bowl Campaign. This has included removing non-native plants, adding a bike valet service, using solar power, and initiating waste-diversion recycling and composting programs.
"We are honored to receive the All At Once Sustainability Award," said the Santa Barbara Bowl Foundation's executive director, Rick Boller, in a statement. He thanked Bowl patrons for their active participation in the greening programs, particularly #MyPintAndMe,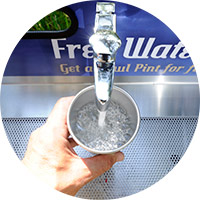 By Paul Wellman