Although the desire for escape may be the reason behind many alcoholics' drinking problems, Santa Barbara author and teacher Melissa Broughton perhaps unknowingly used escape as a temporary solution for dealing with being raised by an alcoholic father. It wasn't until six years ago — and after her father's death — that Broughton decided to pen her experiences into Cowboy Dad, a memoir that helped with the grieving process while also teaching Broughton to separate her father's character from the illness.
"I've been writing the book for five years, but think subconsciously I knew I was going to write the book when I was 24 or 25," Broughton said. "When my dad died, I was beside myself….I also needed to understand for myself because I was really confused when he died from the withdrawals."
At age 25, Broughton left behind the years she spent on cattle ranches in Wyoming and Colorado in favor of the sunny California coast. In Chapter 4 of Cowboy Dad, Broughton iterates the challenge of leaving her family behind as well as a broken marriage in her hope of beginning a new life beyond the struggles in her hometown. But despite her big move, teaching jobs, graduate school, and even a three-month stint in Italy, Broughton felt a tug in her heart, knowing she could not leave the past until she had come to terms with it.
As the oldest of two, Broughton recalled taking on the role of superhero when it came to holding the family together, especially regarding the cowboy's unpredictable behavior. Broughton turned to her many extracurricular activities and studies, striving for consistency outside a home life that was not.
"What happens with children of alcoholics is we take on and develop certain roles and we do that to survive our circumstances," Broughton said. "I think children of alcoholics are good about controlling their environment so they know what to expect."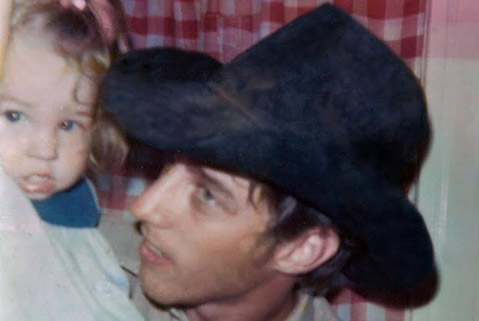 By Courtesy Photo