Additional updates to this ongoing story can be found here.
[UPDATE, Wednesday, 8 a.m.]: At around 11:30 a.m. Tuesday, Santa Barbara County firefighters were dispatched just west of Refugio State Beach to investigate a strong, gassy smell wafting through the area. They soon discovered a river of oil spewing down a storm drain and straight into the ocean that quickly covered four miles of pristine Gaviota coastline in thick crude. The slick is expected to travel farther east before it's stopped and cleaned in the coming days.
Health officials ordered Refugio State Beach closed and its campers relocated just as oil-covered birds and other distressed wildlife began washing ashore. Fishing and shellfish harvesting has been shut down on both sides of the beach, and news helicopters showed migrating whales skirting the sheen. A family living near Orella Ranch evacuated their home because the fumes were so overwhelming.
The accident has been classified by federal responders as a "medium-sized" spill and was traced to an underground pipeline a few hundred yards inland above Highway 101. The 24-inch pipe is owned and operated by Houston-based Plains All American Pipeline, which stopped the leak at approximately 3 p.m. It's unclear how long the pipe was leaking, what caused it to break, or exactly how much crude escaped. Plains initially reported that 21,000 gallons of oil made its way into the ocean, but that number is expected to rise after county, Coast Guard, and state Fish and Wildlife personnel tally the true damage.
Photo Gallery
Refugio Coast Oil Spill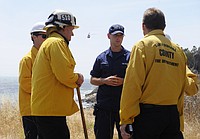 "Plains deeply regrets this release has occurred and is making every effort to limit its environmental impact," the company said in a statement. The spill is the largest in Santa Barbara since a 1997 equipment failure at platform Irene off North County polluted Surf Beach. Six cleanup boats were deploying booms and skimming the ocean Tuesday while land teams began the arduous task of stripping crude from rock and sand. "Any oil spill is devastating to the environment, but it's nothing that we can't recover from," said Capt. Jennifer Williams of the U.S. Coast Guard.
"Unfortunately with accidents and oil development, it is not a question of if, but of when," said Owen Bailey, executive director of the Environmental Defense Center. "But to see this level of spill into such a sensitive and treasured environment is devastating." The Gaviota Coast is one of the most important ecosystems in all of California, Bailey went on, and environmentalists have fought tirelessly to protect it since the massive 1969 spill nearby. "I am deeply saddened by the images coming from the scene at Refugio," Rep. Lois Capps said Wednesday morning. "This incident is yet another stark reminder of the serious risks to our environment and economy that come from drilling for oil."
The broken Plains pipeline funnels 45,000-50,000 barrels of produced oil a day between ExxonMobil's Las Flores Canyon Processing Facility near Refugio to the Plains-owned Gaviota pumping station. From there, it travels to refineries in Kern County. The 10-mile pipeline was installed in the early 1990s. Notably, it's the only piece of energy infrastructure on Santa Barbara County land that's not under the county's watch. When pipe was put in, Plains successfully sued to place it under the supervision of the State Fire Marshal's Office, arguing state management pre-empted local oversight.
The pipeline hasn't experienced any other major issues, said Kevin Drude, head of the county's Energy Division. The life expectancy of such pipes can reach 100 years, he explained, assuming a close eye is kept on corrosion control. Drude said he was curious why the leak did not trigger an automatic shut-off as the pipe is equipped with a sensor system that can detect even the slightest change in pressure. "It's able to pick up pinhole leaks," he said. Tuesday night, Drude was gearing up for a site inspection at first light Wednesday morning. He said Plains had not yet provided his office with the data that will allow him calculate exactly how much oil spilled.
Founded in 1998, Plains All American Pipeline is in the business of transporting and storing crude oil and natural gas all over the continent. According to the SEC, the company's net revenue last year was $1.39 billion. Tuesday's spill was the latest in a number of similar accidents in recent years. The EPA has recorded at least 10 serious incidents in Texas, Louisiana, Oklahoma, and Kansas; between June 2004 and September 2007, more than 273,000 gallons of crude was leaked, and in a 2010 settlement with EPA, the company agreed to spend $41 million to upgrade 10,400 miles of pipeline and pay $3.2 million in civil penalties. In 2011, Plains' Canadian division was responsible for three major accidents in Alberta.
Last May, a 130-mile Plains pipeline that runs through Los Angeles County ruptured and sent 19,000 gallons of crude through the streets of Atwater Village. The leak lasted around 45 minutes, covered a half-mile area in oil, and caused the evacuation of nearby buildings. According to news reports, Plains was not aware of the spill until residents called the city fire department, which then had to notify the company.
By Paul Wellman