When it comes to forging an educational path for their children, many of today's parents have likely noticed that a lot has changed since the yellow buses, standardized tests, and Bunsen burners of their own schooling. These days, variety abounds ​— ​some of it expensive, some of it within the public system ​— ​to such an extent that parents could be excused for feeling mightily overwhelmed. To help with the sifting, consider the following articles a starter list of Santa Barbara's vast spectrum of young-mind stimulation, from multiage classrooms to hands-on engineering to an unorthodox sports path to higher education. Choose wisely. Someday, your kids may even thank you.
• Engineers of Alliance: Dos Pueblos forges innovative partnerships with Adams and Crane.
• Swinging for Success: Santa Barbara School of Squash offers a new path to college.
• JAMS and MAC Teach Music for Its Own Sake: S.B. music schools foster creative thinking in students.
• School Listings: Complete list of all the public and private schools in the Santa Barbara area.
Where should I send my children to elementary school? It's an exciting ​— ​and often anxiety provoking ​— ​question that every parent faces. There are myriad factors that influence parents' educational choice, such as what part of the county they live in, their time commitments, their concept of what should be included in a quality education, and their individual child's needs ​— ​some kids crave independence and quiet time to work alone, while others find comfort in the rhythm of a structured classroom environment. Within the boundaries of Santa Barbara Unified School District, there are 13 public elementary schools and 6 private or independent schools with elementary programs from which to choose. The following are a few of the education philosophies offered by a handful of area schools.
Montessori Center School
Developed by Italian physician and special education teacher Maria Montessori in the early 20th century, the Montessori method aims to foster children's self-reliance and intellectual freedom while tapping into their natural desire to learn. Since 1965, the Montessori Center School of Santa Barbara has nurtured children's independence, creativity, and organizational skills to create a community of self-directed learners.
Montessori parent Suzanne Cohen said the school allows her kids to explore their interests to the fullest depth "without being interrupted." Last year, her 9-year-old son researched the Egyptian pyramids, and this year he's working on a yearlong project exploring Chumash culture.
Classrooms "resemble more of a work-place or company than a traditional school," said Head of School Patricia M. Colby in a prepared statement on the Montessori philosophy. With a 12:1 student-teacher ratio, the nonprofit institution teaches students via multiage grouping in which older children help younger ones master classroom tasks under the guidance of a teacher and an assistant teacher who facilitate each child's learning pace. Students are clustered into three levels: primary (3-6 years), lower elementary (6-9 years), and upper elementary (9-12 years).
Key to Montessori's project-based ideology are aesthetic learning objects such as colorful moveable alphabet letters and geometric blocks, which reappear at different levels of the curriculum like motifs. According to Colby, the Montessori method develops goal-oriented thinking patterns in students, preparing them for future success. Rather than letter-grade report cards, parents receive detailed narratives and written reports on their child's progress three times a year.
The school, located on Fairview Avenue, is home to approximately 265 students, from toddler-aged to 6th grade, and belongs to a network of 4,000 American Montessori Society–accredited institutions (including the distinct Santa Barbara Montessori School on Mirano Dr.). Students interview for acceptance. Tuition is $14,900 per year from 1st to 3rd grade and $15,300 from 4th to 6th grade. Montessori offers need-based financial aid covering up to half the cost of attendance. Each family is asked to volunteer 15 hours per year.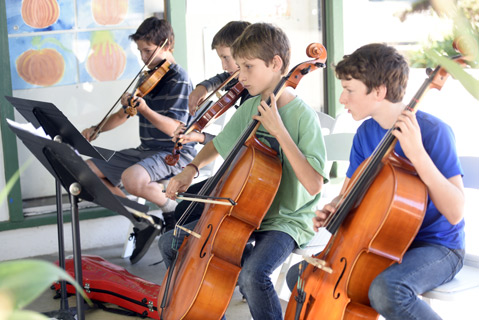 By Paul Wellman