Updated: 9:30 a.m., 10/30
| | | | |
| --- | --- | --- | --- |
| Incident: Gibraltar Fire | 10/29, 5:16 a.m. | 50% | 50 acres (New estimate) |
None
East Camino Cielo from Painted Cave to Gibraltar; Mountain Drive at Gibraltar
Temp: 65° / Winds: 10-15 mph
[Update: Friday, 9:30 a.m.]: Captain Dave Zaniboni with the Santa Barbara County Fire Department had good news Friday morning. The Gibraltar Fire, which began just before dawn Thursday and prompted a massive response from firefighting agencies all around the South Coast, is 50 percent contained and moving toward full containment.
Evacuation warnings for the Montecito neighborhoods below the fire have been lifted, and the amount of resources thrown at the blaze has been "downsized considerably," said Zaniboni. Overnight, Unified Command had 50 engines on standby in case the fire — 1/2 mile off East Camino Cielo Road, west of Montecito Peak — jumped its lines and started heading downhill. Though winds gusted strongly through the area, that fortunately didn't happen, he explained.
Road closures along East Camino Cielo and Gibraltar remain in effect due to equipment in the area. Unified Command has been dissolved, Zaniboni said, and the U.S. Forest Service is now in charge of monitoring and mop-up.
Photo Gallery
Gibraltar Fire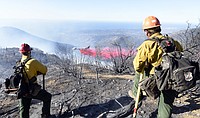 Paul Wellman's photos of the Gibraltar Fire (Oct.29, 2015)
The equipment at the incident site currently includes 10 engines, 4 dozers, 4 water tenders, 4 hand crews, and approximately 250 personnel. Seven helicopters and four air tankers remain on standby.
At the peak of the response, more than a dozen helicopters and air tankers, accompanied by 530 personnel, swept back and forth across the fire, dropping thousands of gallons of retardant at its perimeter.
The size of the Gibraltar Fire has been reduced from 60-70 acres to 50 acres, based on improved intel from air resources and field observers, Zaniboni said. No structures were damaged and no injuries have been reported.
[Update: Thursday, 4:45 p.m.]: As of 3:35 p.m., about 500 firefighters assisted by ten air tankers and eight helicopters managed to get Thursday's Gibraltar Fire snugly in its cradle, but they have yet to completely strangle the blaze into total asphyxiation. Santa Barbara County Fire spokesperson David Zaniboni stated the fire was ten percent contained, though to the naked eye it would appear out.
Hot spots in the middle, however, continue to smolder, and if this evening's winds — with gusts up to 50 mph — materialize as feared, those could become problematic in the extreme. Eight helicopters are dropping water on those areas of the fire, while crews with hoses work the perimeter. Fires are considered contained when hand crews gouge five-to-eight-foot-wide lines around the perimeter of the fire area, scraping the earth of any flammable material. Mostly, with the Gibraltar Fire, this consisted of chaparral. The fire was first reported this morning at 5:16 a.m. and crews were on site by 6:09 a.m. Throughout the morning, it grew from 25 to 70 acres.
Earlier this afternoon, four of the air tankers were released. Six remain on standby at the Santa Maria Air Tanker Base should they be needed. Some air tankers were released and six were put on standby when it was determined they'd done all they could do, said Zaniboni. In total, he said, 85,000 gallons of retardant were dropped over the course of the day. Now, the great fears are the wind and the night.
In 2009, the Jesusita Fire sprung back to life after it appeared to all concerned that it had been effectively extinguished. (The Tea Fire the year before was also thought extinguished by a group of young people partying outdoors after they'd urinated on the flames. Their urine proved woefully inadequate.) That history was front and center in the minds of firefighters attending the Gibraltar Fire. With California experiencing the hottest, driest run in recorded history, flying sparks and embers could prove catastrophic.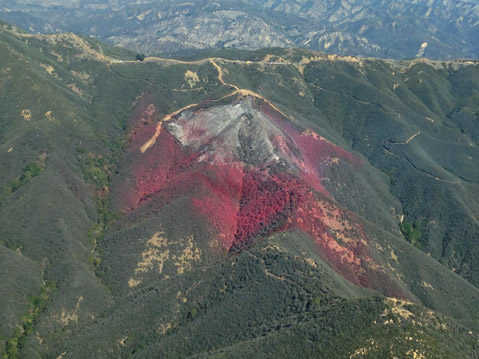 Cory Peters Tanker 164