Spring training has begun in Santa Barbara for Olympic gold-medal hopefuls Ashton Eaton and Brianne Theisen-Eaton, the power couple of track and field. Outside of Oregon, where the sport is a big deal, they are hardly recognized, even though they have People magazine looks. Empty celebrity is not their thing. They want to be as genuine as the hurdles, jumps, throws, and all those laps they've been running the past decade.
"It's cool to tell people about us and what we do, [but] how does that help people? Why should people care?" Theisen-Eaton said at a fundraiser for the Santa Barbara Track Club (SBTC) last Sunday. "You're constantly talking about yourself, and it doesn't feel like people are getting anything out of it." Eaton, the defending Olympic decathlon champion, went so far as to tell his wife, "They just want to know what I do, and I think that's boring."
So the computer-savvy couple turned things around by reaching out to fans through their website (weareeaton.com) and asking them: What is it that you do? What are your goals, your struggles, your breakthroughs? They invite people to upload their answers in text, images, and videos, tagging them #What'sYourGold. The idea is to show that everybody has to persevere through ups and downs, even gifted athletes. "We aren't perfect," Theisen-Eaton said. "We struggle."
The Canadian Olympic athlete had a breakthrough at last month's World Indoor Championships in Portland, Oregon, winning her first international gold medal in the pentathlon. Barbara Nwaba of the SBTC finished fourth. Nwaba, the defending U.S. champion in the outdoor heptathlon, hopes to be competing with Theisen-Eaton at the Rio Summer Games. History could be made if both Eatons win gold medals — something never before accomplished by a husband and wife from different countries.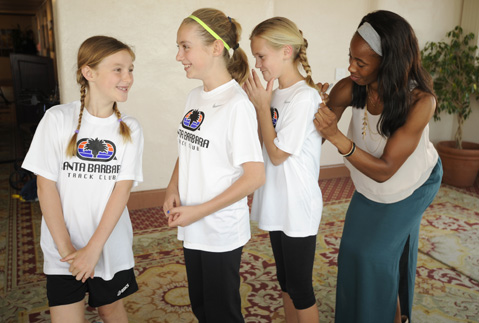 By Paul Wellman