NOTE: This route is for serious and practiced adventurers only. Barring any major rain events this spring, the following route from East Camino Cielo to Upper Agua Caliente Canyon will likely only be doable for another month or two until next winter or spring. Water sources are intermittent and increasingly unreliable as the summer nears. Due to a barely discernable trail, only those with navigational skills and outdoor experience should visit Upper Caliente, even if arriving to the trailhead by car.
The Big Caliente Hot Springs are one of the most popular destinations in our backcountry, but hardly anyone ventures past to see the canyon from which their neighboring creek flows. Those few who do will witness an almost untrammeled land, one vibrant with massive meadowlands and chaotic red rock. Though technically not even wilderness — the canyon is wedged between, but never enters, the Dick Smith and Matilija Wilderness areas — there are few places in Santa Barbara County accessible within a day that feel this wild, remote, or special.
Though one can drive to the trailhead, the road is often closed or rugged due to weather. A much more adventurous option is there for those willing to put in the miles and willing to risk a lack of water. Leaving from East Camino Cielo, this route descends from the top of the Santa Ynez Mountains into the vast expanses of Blue Canyon and the Mid-Santa Ynez area before traveling up into the wide and rugged drainage known as Agua Caliente. The route is about 10 miles from East Camino Cielo to Upper Caliente Camp (9.9 by map measurements), including almost 2,000 feet of descent in the first 2.6 miles (1,876 feet to be exact), which will be regained on the way out.
The trek begins at Cold Springs Saddle, where one heads downward first to Forbush Flats (1.7 miles in). From up here, one can already see the red hues of Agua Caliente perking up between the purplish folds of foothills fanning out in front of you. Continue ever-downward through whispering oaks until you arrive at the big meadows of Cottam Camp (2.6 miles in). If you can make it a two-night trek, this a great place to stay for the first leg of your journey. Flowing water is more abundant here than anywhere else up ahead.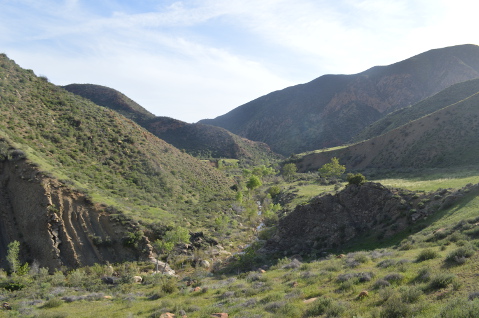 By Richie DeMaria