Like many space junkies and budding engineers around the globe, Trevor Fritz follows SpaceX very closely, so he watched in awe on April 8 as the company successfully landed a reusable rocket on a barge in the middle of the Atlantic Ocean, a major milestone for interstellar exploration. Fritz, a UCSB mechanical engineering undergrad, hopes to be part of another SpaceX history-making venture. He is part of a university team competing to revolutionize travel here on Earth.
SpaceX founder Elon Musk ​— ​the big-brained entrepreneur behind PayPal and Tesla Motors ​— ​announced a competition for college students to design levitating passenger pods for his proposed Hyerloop project, a new mode of solar-powered, high-speed travel that would hurtle riders through vacuum tubes at 700 mph. Musk had come up with the idea a couple of years ago while he sat in Los Angeles traffic but said he was too busy with his electric car and private space companies to pursue it.
"Short of figuring out real teleportation, which would, of course, be awesome (someone please do this), the only option for super fast travel is to build a tube over or under the ground that contains a special environment," Musk wrote in his white paper on the subject. If the Hyperloop were built along Interstate 5 in California, he said, it would cut travel time between L.A. and San Francisco to 30 minutes, cost much less than a high-speed rail ($6-$10 billion compared to $60 billion), and boast a range of ecological benefits, like reduced gas consumption and car emissions and overall less energy per passenger. Musk termed it a "fifth mode" of transport ​— ​after cars, planes, trains, and boats.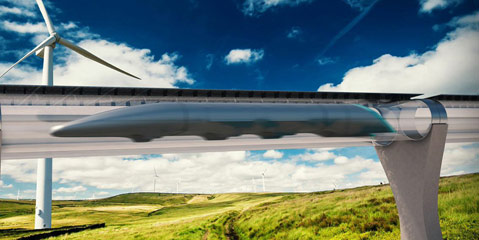 By Courtesy Photo