It was a rare victory for Goleta's beleaguered slow-growth movement when the California Highway Patrol dropped its plans this winter for a patrol station on Hollister Avenue, near the Ellwood School.
Hundreds of west Goleta residents opposed the project, and the Goleta Water District rejected its application for water service, citing a moratorium on new connections that went into effect on October 1, 2014.
"The water district had been quite firm, and I think that was a big obstacle," said Robert Miller, an Ellwood newcomer who led the opposition. When the CHP withdrew, he said, "We were ecstatic."
The CHP project, however, has been the exception and not the rule, as Goleta's real estate boom continues virtually unchecked under a district-declared water shortage emergency. Records show that during the moratorium, as the district urges residents — among the thriftiest in the state — to further reduce their water use in the fifth year of a severe drought, it has signed off on water service for more than 600 future homes and apartments, 165 housing units at UCSB, and a dozen homeowner swimming pools, spas, and Jacuzzis.
According to district officials, the applicants for these projects have preexisting water entitlements dating from the 1980s to 1950s — a confusing patchwork of reclaimable meters, unused permits, outstanding "will serve" letters, and historical water service agreements — that exempt them from the moratorium. The district calls it "stealth demand."
"It's factored into our plan for future build-out," said Ryan Drake, district water supply and conservation manager. "It's not a new entitlement. It's additional demand we're obligated to serve and can't cut off."
Even in a severe drought? asks Donna Hone, who served on the district board for 10 years in the 1970s and '80s.
"They have absolutely run amok," Hone said. "We have no water, and they are handing out will-serve letters like popcorn. They're putting us in a huge deficit position. Where is the water coming from? It really is alarming."
During the last water moratorium in the Goleta Valley, from 1972-1996, with a few voter-approved exceptions, the district halted new hookups and stopped processing applications.
"We declared an emergency, and there was no way we could lift the restrictions on new connections," Hone said.
In the current drought, the only other South Coast water agency to declare a moratorium is the Montecito Water District. It has made one exception to a ban on new hookups now in its third year: The Miramar hotel developer was allowed to install new meters to comply with fire regulations.
In 1991, at the end of the last drought, Goleta Valley voters approved a ballot measure requiring their district to halt new water connections whenever it cut back its allocation from Lake Cachuma, the main water supply for the South Coast. The current moratorium was triggered when all South Coast water agencies agreed to a 55 percent cut, beginning October 1, 2014. By then, the lake was two-thirds empty.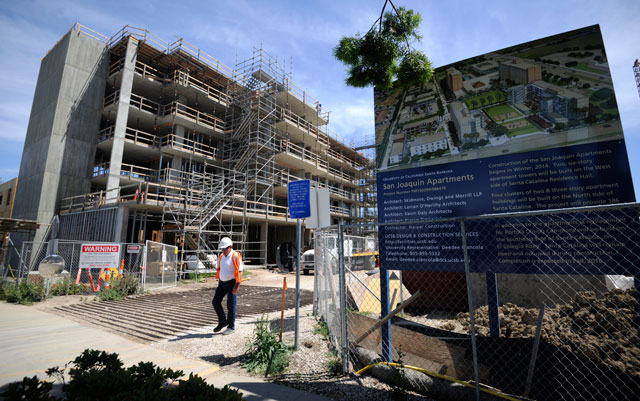 By Paul Wellman