UPDATE: Fire officials have ruled Monday's fire arson, noting it was the third act of vandalism in that area of the city in the last week. Evidence is still being gathered and witnesses are still being interviewed as the investigation continues. The City Fire Department dispatched three engines, one truck, and a Battalion Chief to the high school to put out the blaze.
Photo Gallery
Arson Likely Cause of High School Fire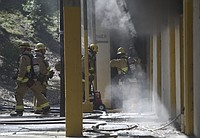 A small fire was quickly doused in the Field House room under the stadium at Santa Barbara High School
ORIGINAL REPORT: Santa Barbara firefighters made quick work of a small fire that started Monday afternoon in a storage under Santa Barbara High School's stadium seating. Though small, the blaze generated a lot of smoke, alarming nearby residents who were concerned it might spread in today's windy weather. Fire officials on the scene said the incident didn't appear to be wind-related, though its cause remains unknown. Emergency crews responded to a number of downed power lines Monday, including one on West Carrillo Street that knocked out power to nearby homes, and said they expect additional falls and outages tomorrow with more wind in the forecast.