Sheriff's K-9 Gango was honored Monday with a retirement certificate and a rawhide bone after more than seven years of service to the Sheriff's Office. Gango boasts a career history that includes tracking down carjacking, drug trafficking, robbery, and burglary suspects, as well as finding lost children and seniors suffering from Alzheimer's and dementia.
Memorably, Gango located a stranded biker — a deaf teenager — whose scent he traced from her bike helmet and shoes. He once sniffed out a handgun, hidden underneath a vehicle, which had been used to commit a crime.
A certified patrol canine with specialty certification in explosive detection and hard surface tracking, Gango has investigated bomb threats in buildings all around Santa Barbara County. He has met many notable dignitaries, including the Dalai Lama and the Clintons, while providing security by searching banquet theaters, hotel rooms, motorcades, planes, and boats.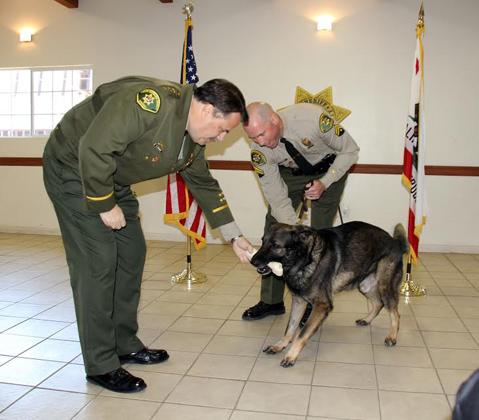 Stephen Osman