"Olé, and viva la siesta!"
Fiesta begins in earnest at tonight's La Fiesta Pequeña, but for the seamstresses who have toiled tirelessly on hundreds of handmade dresses, this week is the calm after the storm.
After months of sewing marathons to produce the colorful and customized flamenco costumes paraded across Santa Barbara this week, months of meticulous artistry is finally complete.
No more last-minute alterations or unstitching and stitching of that one unruly hemline.
No more lugging around heavy bolts of fabric, or late-night machine malfunctions.
No more desperate trips to downtown L.A.'s fabric mart to scour the stores for missing inches of lace trim in "chartreuse, not lime, not emerald, not kelly, but chartreuse!" or that extra yardage of the elusive crespón polyester meant for flamenco dresses: not too heavy, not too light, not too stretchy, not too slippery, never scratchy, wrinkle-free, at the right price, and at least 8-10 meters of it per dancer, in all one color or coordinating colors, or forget about it; keep scouring. Or get ready for a pricey, sometimes unpredictable import from Spain, where polka-dot, floral, and solid flamenco fabric is everywhere but still 6,000 miles away.
In any given year, there is a small but mighty group of women ​— ​maybe six or seven ​— ​who are commissioned to produce these figure-hugging, ruffled trajes in mass quantities on deadline. Along with talent, they have the disposition and intuition to work side by side with hovering mothers and often demanding studio directors who look to the seamstress to carry out their artistic vision (often from a simple, colored-pencil sketch designed by the directors themselves).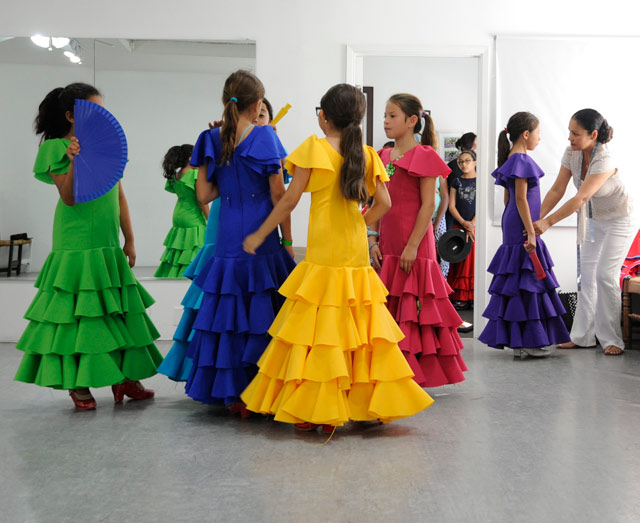 By Paul Wellman