The  Zika virus seems to have scared some top professional golfers away from the Rio Olympics, but they aren't sacrificing much, because they've got four majors every year. For most athletes in Olympic sports, the Games are their one major every four years. It takes more than the risk of a mosquito bite ​— ​diminished by the winter season in Brazil ​— ​to make them give up what for many is the chance of a lifetime.
Every Olympics poses hazards to the visitors from around the world. Some cities deal with them better than others. Los Angeles took measures to reduce traffic and effectively erased the fears that the city would be choked with congestion and smog during the 1984 Games.
Santa Barbara has a band of 2016 Olympians who are ready to go all out in Rio. The U.S. women's water polo team, favored to win its second consecutive gold medal, includes three players ​— ​almost 25 percent of its roster ​— ​from our town: Kami Craig, Sami Hill, and Kiley Neushul. Hometown volleyball icon Karch Kiraly, who won three gold medals as a player, is head coach of a U.S. women's team that is seeking its first Olympic gold. The Santa Barbara Track Club's Barbara Nwaba, the U.S. heptathlon champion, has an outside chance at a medal.
All are prepared to concentrate on the task at hand. "There always seems to be some type of worry going into the Olympics," said Craig, a three-time Olympian with the water polo team. "The approach is always the same for us. We worry about what we can control. It's all about preparing our bodies and our minds and focusing on our opponents and the games."
They should have more favorable conditions than did the late Ernest "Nick" Carter, the first Olympic athlete from Santa Barbara County, at the 1928 Games in Amsterdam. The U.S. team's "hotel" was the SS Roosevelt, the ocean liner that took them across the Atlantic. When team officials caught some athletes in an Amsterdam bar ​— ​a scandal in those days of Prohibition ​— ​they moved the ship from the dock to the middle of the harbor. "We had to go back and forth by launch," recalled Carter, a Lompoc native who became track coach at UCSB. "The boat rocked the whole time we were there. So we never got rid of our 'sea legs.' " Carter came up short in the semifinals of the 1,500-meter run. "I always felt that it was caused by staying on board that ship and having it rock all the time."
Four decades would pass before Bill Toomey, a teacher at La Colina Junior High, won the decathlon at Mexico City to become the first Olympic medalist from Santa Barbara. The L.A. Games marked the beginning of a strong Santa Barbara presence in Olympic sports, especially water polo and volleyball.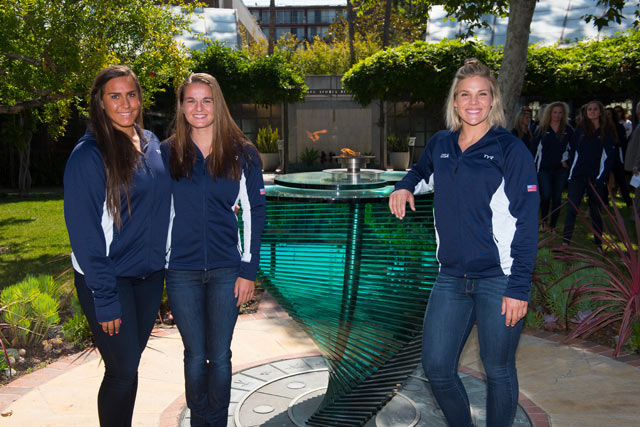 By Courtesy Photo