Fall offers some of the best weather along the Central Coast with generally warmer weather and many cloudless days. Temperatures can be 10-15 degrees warmer allowing for the best beachside conditions. This is especially true in Pismo, Shell, and Avila Beach. The Dolphin Bay Resort has a perfect setting to take in the coastal views and excellent dining on site.
The Beach
The Dolphin Bay Resort sits in Shell Beach which is right next to Pismo Beach. This entire area offers sweeping vistas of the Pacific stretching from Avila Bay down toward the Nipomo Dunes. This is actually where the coastal rock outcroppings start and continue to build all the way up the coast. The atmosphere in Pismo is very relaxed and casual, but there is plenty to do. Downtown Pismo and Arroyo Grande offer a variety of shopping with the latter keeping to its authentic western heritage.
The Guadalupe-Nipomo Dunes is worth the trip alone with unspoiled sand dunes rising up from the beach from Pismo all the way to Point Sal. Whether for walking, running, bird watching, or even some time on a dune buggy, this is the spot for a couple of relaxing hours. I would be careful in the surf as the waves are ferocious.
The Resort
The Dolphin Bay Resort is the newest and finest edition to luxury lodging in the area. The entire property sits on a bluff overlooking the ocean ensuring great views for all guests. The accommodations are actually elegant condos with all the comforts of home. The one we stayed in looked out over the pool area with the Pacific in the background. Our two-bedroom unit could easily handle a large family, and there are larger options as well. Dolphin Bay offers underground parking close to elevators for easy access to all units.
The Lido Restaurant and Lounge is the resort's signature restaurant and is also one of the top dining spots in the Pismo Beach area. Executive Chef Jacob Moss has created a California coastal cuisine that uses the finest ingredients from local farmers in the San Luis Obispo area. Guests can also choose from top local wineries for their beverage as they gaze out to the rugged blue Pacific. Dolphin Bay also features The Spa at Dolphin Bay with many treatment options to rejuvenate your soul. For further details visit TheDolphinBay.com.
King City Stopover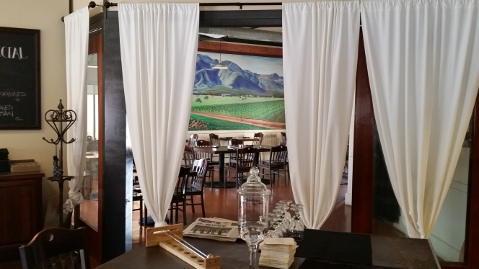 courtesy