Rugby players do not actually eat their dead, although the bumper sticker says so, but they do become bonded in flesh, blood, and spirit during their lifetimes. The camaraderie can be stronger than national affiliations.
"You're a rugby player first, wherever you go," said Kevin Battle, director of the Santa Barbara Rugby Academy (SBRA). "That's the identity that matters. Travel anywhere in the world, look up the local rugby club, and you'll find people who will be happy to buy you a beer and probably give you a place to stay."
The SBRA is the nation's first full-time rugby training program. Started in 2009, it enrolls recruits at S.B. City College and has had 41 players transfer to four-year schools. One of its graduates, Alec Gletzer, plays on the national team. In January, the SBRA will start up a women's program. It will be led by Kelly Griffin, the captain of the U.S. women's sevens at the Rio Olympics.
Griffin played basketball and soccer in high school. She went to UCLA and scanned a list of club sports. In rugby, the feisty 5′4″ 150-pounder found a sport where she could release her aggressions. "In basketball, I often got into foul trouble," she said. "Rugby — you can just hit them. Not a foul."
There's a women's league of American football, but Griffin said, "Rugby is way more fun. It's so much more fluid; everybody gets to play offense and defense; everybody gets hands on the ball. It's the most fun sport I've ever played." And it took her to the Olympics, where the brisk, high-scoring sevens game was well received. The U.S. women finished fifth after playing Australia's gold-medal team to a draw.
Crystal Ho's passion for rugby led her to revive Santa Barbara's women's side, the Mermaids, two years ago. "It's kind of my baby," said Ho, a county medical lab technician who discovered rugby at UC San Diego. "It's blossomed into this lovely family. The diversity of people brought together through rugby is one of its most notable distinctions. We have active players in their sixties who still lead and tackle 20-year-olds."
Another "beautiful thing about rugby," she said, is the socials: "mandatory eating-drinking-bonding time with all visiting teams in which international rugby songs are sung and belched."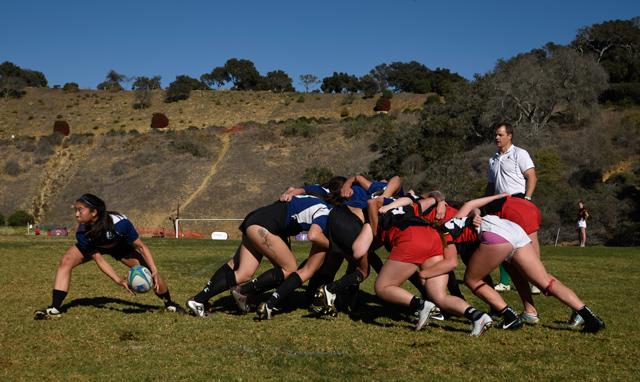 By Paul Wellman