It was Throwback Wednesday at the Thunderdome last week, when Cori Close recognized the seeds of UCSB's success in women's basketball.
"They out-toughed us; they out-hustled us," said Close, the UCLA coach, even though her nationally ranked Bruins defeated the Gauchos, 71-52.
Close was a hustling Gaucho herself in 1992 and '93, when she played on the first two UCSB women's teams to reach the NCAA tournament. "They remind me of my senior year when we started out 0-6 and went on to win the Big West tournament," she said of the current Gauchos, who came into the game with a 2-6 record.
UCSB reached the height of scrappiness after trailing UCLA, 20-7, entering the second quarter. Ripping at loose balls, making 15 defensive stops, and attacking the basket from inside and out — with Sarah Porter drilling two three-pointers — the Gauchos caught up at 22-22, and they heard the loudest cheers at home in some time.
That's when UCLA guard Jordin Canada went on a tear. She scored 12 of the Bruins' 13 points in the quarter and gave them a 33-23 halftime lead. Canada went on to score a game-high 30 points. "It was: 'Get out of my way; let me play one-on-one,'" UCSB coach Bonnie Henrickson said. "That's what point guard All-Americans do; they take over. That's a great lesson for Drea and Nom."
Drea Toler and Onome Jemerigbe, UCSB's economy-size (5′5″) guards, stood tall three nights later at Fresno State. Down by a point with seven seconds remaining, Jemerigbe took an inbounds pass, drew defenders to her, and found Toler open to the left of the key. Toler's 18-foot shot went through the hoop as the buzzer sounded for a 50-49 UCSB victory. "It was exciting," Henrickson said. "[The players'] reaction was priceless."
On Monday, the Gauchos' road trip continued deep in the south of Texas, where they came from behind to defeat Texas A&M Corpus Christi, 66-60.
"I like the direction we're headed," said Henrickson, trying to revive UCSB's program after several down years. "We grow the stretches, we play well, and shrink the stretches we don't."
They may look back to that second quarter against UCLA as a turning point. But that's not to say the Gauchos will ever again reach the heights they did under Mark French, who had Close as his assistant coach, when they went as far as the NCAA Sweet 16 in 2004.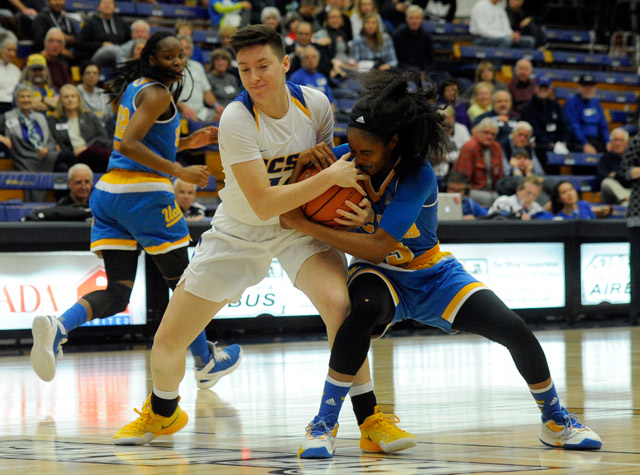 By Paul Wellman