Knowing how to keep an unscripted awards show on track is an art and arts writer Dave Carter manages the trickiest one of each year's fest remarkably well — the crowded field of the Virtuoso Awards. This year there were seven, a big number to juggle although one of the most anticipated honorees, Joel Edgerton, was a no-show due to a conflicting award event. Instead of just not showing up, Edgerton allowed himself to be interviewed on tape with Carter, and, was well-received even if he was less than riveting discussing how rounded characters are more interesting than flat. He did surprise everyone speaking passionately about how much he loved "the dress-up" aspect of filmmaking. We remembered he wasn't a gun-wielding commando, he just plays them in the movies. His direction of The Gift does deserve all the praise it can get.
Photo Gallery
2016 SBIFF Virtuosos Award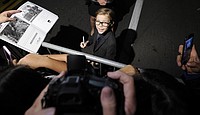 Most of the guests were way beyond entertaining. Elizabeth Banks said the best part of Beach Boy biopic Love & Mercy was falling in love onscreen. "For some reason I don't get to do that much in the movies I make." Paul Dano talked about how he and John Cusack "walked toward our respective Brians" in that same film. Crowd favorite O'Shea Jackson was brilliant on the topic of race and Oscars. "To get the people who didn't appreciate my father [Ice Cube in Straight Outta Compton] to appreciate him" he said was a son's job and better than any Academy honor. Geza Rohrig talked about the stunning method of Son of Saul camerawork. Alicia Vikander accepted praise for her acting but noted that the toughest day of filming was easy compared to ballet school she attended. She made that seem elegant and profound.
However, the night was stolen by Jacob Tremblay, the nine-year-old wonder from Room. He held his own all night and then some. Asked about the impact of his film, which he admitted watching in its entirety, he explained. "If you were a mom, you understand this would be the worst thing in your life. But to a kid it would be…whatever."