It could be a coincidence that Brie Larson's pre-fest interview was conducted via email and then she "turned up" at her own tribute interviewed from Los Angeles via Skype. To be fair, she is busy filming Skull Island: Kong and was called back to that Australia set. All the same, during the course of the interview, Larson admitted she has "a dichotomy in me. One-on-one makes me nervous, but up on stage I'm fine."
The conversation itself was weirdly stilted at first but productive. Larson, who began working at age six, she said, nearly left the profession and went back to college when she first did not get the role of Kate on United States of Tara. But at that point she was already making a film (simultaneously) Rampart with the great Oren (Love & Mercy) Moverman, who she called a mentor. Plans exist for a second film with Moverman and her Rampart co-star Woody Harrelson. The conversation ended on Room and her Academy-award nominated role. Larson was most eloquent talking about when the film moved from the tiny set of "room" into the bigger scenes outdoors. And the movie got better as it was meant to be. "As time goes on, we're all moving into bigger rooms," she said.
Photo Gallery
SBIFF 2016 Outstanding Performer of the Year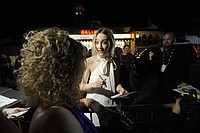 Longtime fans of young Saoirse Ronan won't be surprised that her live performance was even grander than that of her friend Larson's streamed talk. Ronan was quippy on the subject of being born in the Bronx, "Can't you tell by my attitude?"; her depth of understanding of Brooklyn based on her own life as an actress from Ireland who lives in New York; and her funny facility with accents. "It's an Irish thing to do voices when you tell stories," she said.
Ronan admitted that she liked the "specificity" of doing an action film like Hanna. And she also loved working with great directors like Joe Wright. Even more with Wes Anderson, she said. "I'd do it again in a heartbeat. Hint, hint."
In the end, she came off human, approachable, and appreciative of the work and the honors. After an effusive speech by Roger Durling, tearful Ronan turned to the photographers and said, "There's no point in taking a photograph now, me makeup's ruined."