In 1908, a reticent teenage girl entered her freshman year at Santa Barbara High School, determined to make a fresh new start. Her family had just moved to town from Pittsburg, hoping the sea air might alleviate her sister's troublesome respiratory ailments. In an effort to assimilate, the girl joined the basketball team and began writing for the school journal. One afternoon, she saw a poster for an upcoming dance performance and pleaded with her father to take her. She wore a new spring dress and watched carefully as Ruth St. Denis appeared onstage, hands and feet flexing dramatically in a barefoot ballet. By the time the velvet curtain came down, she had made up her mind to study dance theater. Over the next 83 years, she would become the single most important figure in the modern dance world. Her name was Martha Graham.
Since then, Santa Barbara has played host to some of the most prolific dancers and choreographers of our time as they ebb and flow through our community, leaving an indelible mark on the city's dance landscape. Some, such as celebrated choreographer Alonzo King, whose work is now included in the repertoire of more than 50 dance companies around the world, found their footing on the Marley floors of the city's intimate dance studios. Others, such as power couple Robert and Carol Hanlin, both former dancers with the American Ballet Theatre and founders of Santa Barbara Festival Ballet, arrived from storied journeys across continents and historic stages, looking for a way to give back to the discipline that has shaped their lives. And still others, such as Daniela Zermeño, a Santa Barbara native whose dance academy has trained hundreds of aspiring flamenco artists, have remained woven into the fabric of our dance community, pouring a lifetime of performance and choreographic work into the theaters and festivals of our arts-fueled environs.
The architecture of a rich and diverse dance landscape is made up of delicately balanced components, with institutions, theaters, schools, and studios all intricately connected to a multidisciplinary network of artists. In Santa Barbara, a typical scenario might play out like this: Sophia B. receives a scholarship from the Santa Barbara Dance Alliance, which affords her classes at the Dance Network, which leads her to enroll in UCSB's Department of Theater and Dance, which exposes her to the composition class that inspires her to choreograph her first evening-length work, which she debuts on a professional stage thanks to Marjorie Luke Theatre's rent subsidy program. Real-life testimonials, such as those of Austin McCormick, UCSB graduate and director of New York City's vibrant Company XIV, or Shane Scopatz, former Santa Barbara Festival Ballet student and member of the illustrious Batsheva Dance Company in Israel, echo through the city's studios like contemporary dance fairy tales.
Below are four prominent figures from the Santa Barbara community ​— ​Christina Sanchez, Kathee Miller, Robin Bisio, and Rosalina Macisco ​— ​who have made the advancement of the dance arts their life's work. Approaching their contributions from four diverse angles, these women all play integral roles in keeping the artistic fires of our city ablaze and serve as an inspirational reminder that it truly does take a village to ensure everyone is exposed to the transformative power of movement. Dance on, Santa Barbara. Dance on.
The Prodigy
The way Christina Sanchez paints it, she really had no say in the matter. "I had a deep physical reaction to the movement. It was this amazing kinetic and spiritual connection," she recalls, referring to her early days as a student at the Shawl-Anderson Dance Center, where the instructor walked around cradling a small drum, beating out the counts to each movement. Sanchez was living in Richmond, California, at the time, a wild child whose weekly BART rides to North Berkeley for dance classes saved her from the teenage angst plaguing most of her peers. Just before high school graduation, she came across an ad for Alvin Ailey's summer program in a dance magazine and something inside of her clicked. "I knew that was exactly what I needed," she says. "To just go somewhere and focus on one thing and finish it off and see. Just see what happens next."
Moving cross-country is tumultuous enough, without the added consideration of oh, say, where one might actually live and work. "My mom thought it was crazy because I was only 18, and to go to New York without knowing anybody there was really scary for her," Sanchez reveals. A dance instructor connected her with a relative living on the Lower East Side, and after some initial jostling, she settled into an old sewing factory with six other roommates — an expansive space partitioned off with paper-thin Sheetrock to create teeny-tiny living quarters for its eclectic inhabitants. "It was like a scene out of the musical Rent," she remembers. "We had an artist from France who only ate hard-boiled eggs, an art historian from Italy working out at NYU, two dancers from the West Coast, and two ambitious girls who worked on Wall Street." The glamorous life she'd signed on to soon kicked into high gear, with Sanchez rushing from her six-hour training days at the Ailey school to her job bussing tables for a Mexican restaurant on Second Avenue. She'd head home at 1 a.m. only to get up the next day and hit repeat.
Sanchez would stay in the city for 17 years, working her way up the Ailey machine as choreographers, impressed with her technical prowess and preternatural lines, would send along a steady stream of audition invitations that she hungrily accepted. In 1992, she snagged a coveted spot in the Ailey II Company, touring the United States with 11 other dancers on a $150-a-week salary. "Most of the time we had to cover our own hotel expenses, so imagine four dancers sharing two beds in a cramped hotel room. Those were the good old days!" she exclaims with genuine affection. Four years later, she would hit the jackpot, earning a prestigious position with Ailey's flagship company that would send her on a life-changing tour spanning four continents and more than a dozen cities.
If a primordial impulse had sent Sanchez across the country in search of a sense of purpose, then it would be that very instinct that would galvanize her return. In 2005, Sanchez's first daughter was born, and she and her husband made an easy decision when considering a new home for their growing family. "My mother and grandmother were both born in Santa Barbara, my uncle Rudy Castillo was El Presidente for Fiesta's bicentennial celebration, and [my husband] went to UCSB, so this city is a place of beautiful family memories for us."
These days, the prodigious Sanchez heads contemporary dance classes for students at both UCSB and Westmont College, and in 2011, she signed on to perform with Santa Barbara Dance Theater under the direction of Christopher Pilafian. To watch Sanchez dance is to see nature exemplified, a seamless flow of energy and emotion that inadvertently brings tears to my eyes every time I watch her onstage. She has also just launched an independent youth program for the beginner dancer, a realized goal to give back to the discipline that has afforded her boundless gratification. "If I could instill anything in this new generation," she begins, "it would be to first have a sense of history and respect for the pioneers before them and not cheapen the work by trying to take shortcuts." As competitive dance becomes more mainstream, pressuring young artists to adhere to a sanitized rigidity, Sanchez is making great efforts to counter back. "I want my students to enjoy the beauty of movement while celebrating their own bodies. If I could bring out each individual's story and make them see it as a thing of beauty, then I think I've done my job."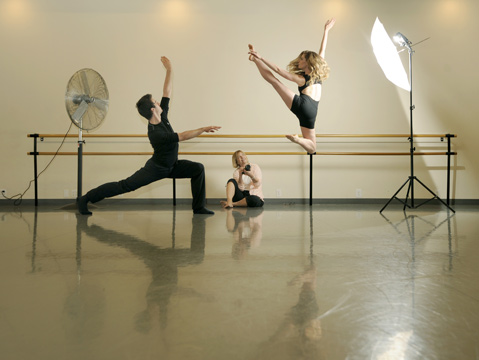 By Paul Wellman