A long awaited report on last May's Refugio Oil Spill unveiled this week by the Pipeline and Hazardous Materials Safety Administration found Plains workers waited 89 minutes to notify the National Response Center (NRC) after discovering the source of an overwhelmingly pungent stench.
The federal agency charged with pipeline regulation, known as PHMSA, believes the oil release began at about 10:55 a.m. on the sunny day last May. At 11:22 a.m., the report found, the pipeline's leak detection system appeared to shut down. PHMSA blamed the root cause of the spill on external corrosion. In addition, the feds found Plains failed to take precautions necessary to prevent its insulated Line 901 from corroding.
The preliminary yet detailed findings offer a glimpse into what went wrong on May 19, 2015, when an estimated 124,320 gallons of black crude oil spilled near Refugio Road, with an estimated 20,000 gallons reaching the Pacific Ocean.
At the behest of Congressmember Lois Capps, Marie Therese Dominguez, PHMSA's top administrator, hand delivered the report to Santa Barbara media on Wednesday. Standing beneath the courthouse archway in the misty rain with a number of PHMSA reps, Dominguez, who was hired shortly after the Refugio Oil Spill, spoke in very bland terms. The local media has reported much of her remarks ad nauseam for nine months. Wednesday a TV reporter bluntly asked: Can you tell us something that is new to take back to our newsrooms?

Dominguez said the report "contains the facts we have to date," but declined to draw conclusions about the "ongoing investigation." Upon further review, the 12-page report is chock-full of potentially significant details surrounding May 19. The final version, expected in May, could fault its workers or impose hefty penalties.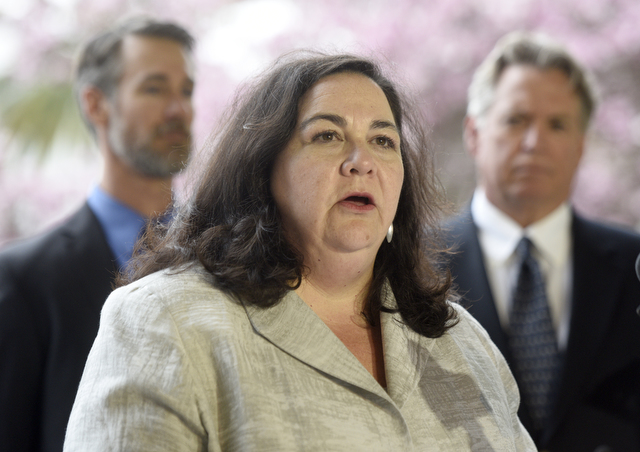 Paul Wellman/Santa Barbara Independent