Haskell Wexler had eclectic tastes — grassroots unions, L.A. Lakers games, electric cars, Liberation Theology, naughty limericks, veggie food, cowboy shirts, and baseball games with Fidel Castro. We met in 1973, after he heard my NPR reports about the Indian uprising at Wounded Knee. I was a car buff at the time and was immediately taken by the fact that he had seventeen automobiles, including a 1949 Rolls Royce Silver Dawn with right-hand drive, which he'd picked up on a shoot in Italy, and a Formula 1 racer with a souped-up Buick Straight-8 engine. For the next 42 years, he was my friend and mentor.
Born into a wealthy Chicago family in 1922, Haskell took his first photos — of striking unionists during the Depression — when he was still in the 8th grade. When he was just 12 on a family vacation to Italy, he used a wind-up 16mm camera to shoot his first film. The footage intercuts tourist shots of his parents and siblings with fascist teenagers wearing Mussolini insignia. He told me that during the Spanish Civil War in 1937, when he was still in high school, he'd lied about his age to join the Abraham Lincoln Brigade. Rebuffed, he proceeded to leaflet against the aerial bombings of civilians in Spain, earning him his first attention from the FBI. According to his FOIA file, the Bureau marked him as "prematurely anti-fascist." He was 15 at the time.
Haskell enrolled at UC Berkeley in 1940. A year later, after he was expelled by the dean of students for a campus prank, he joined the merchant marines. In 1942, his ship was torpedoed by a Nazi sub off the coast of Africa. He spent two weeks in a lifeboat, nursing a leg wound, catching seagulls, eating them raw, and watching his best friend die in his arms. He was the last sailor off the sinking ship, manning — but not firing — a machine gun as his fellow crewmen scampered for safety. Haskell remembered the U-boat commander standing on the deck of the surfaced sub, shooting the bobbing lifeboat with a small movie camera. It was Friday the 13th, a day he would always consider lucky.
President Franklin Roosevelt cited Haskell for bravery in combat, but for most of his adult life Haskell would speak about the scourge of war. The day after I'd get home from assignment in Syria or Afghanistan, he'd be there on the doorstep, camera in hand, eager to know what I'd seen and heard. He wanted to know how it felt. He was interested in the detachment war photographers experience when they look through the lens, but he usually focused on the larger meaning of events. After 9/11, in the run-up to the invasion of Iraq, he noted how stocks in companies like Boeing, Raytheon, and Lockheed had skyrocketed. He remarked on the phenomenon again with the rise of ISIS, which he believed the invasion had spawned. He said it was "the marriage of capitalism and the Pentagon."
When I met Haskell in 1973, the Vietnam War was still raging. Two years earlier, he'd filmed the last interview with Salvador Allende, just before the Chilean president died in the U.S.-engineered coup. It was six years after winning his first Oscar, for Who's Afraid of Virginia Woolf?, when he'd galloped to the stage to deliver the shortest acceptance speech in Academy history: "I hope we can use our art for peace and love." It was five years after he'd been tear gassed at the Democratic Convention in Chicago while directing his iconic film Medium Cool and two years after his Oscar for producing Interviews with My Lai Veterans.
In all, Haskell would be nominated for five Academy Awards as a cinematographer, winning two. To industry colleagues, he was known for his aesthetic innovation. He was the first Director of Photography (DP) to use the Steadicam for handheld shots in a feature film. He did that in his Oscar-winning Bound for Glory, the biopic about his Merchant Marine buddy, Woody Guthrie. Garrett Brown, the inventor of the Steadicam, told me Haskell's decision revolutionized Hollywood, giving camera operators the mobility to capture an intimacy that camera cars, track dollies, and cranes could never provide.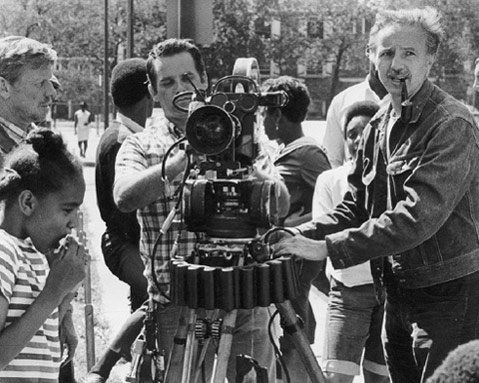 By Courtesy Photo