Kicking off a month of activism throughout southern California, the labor union UFCW Local 770, staged a rally on Wednesday in front of Ralphs on West Carrillo Street. Dozens of grocery store employees from Ralphs, Vons, and Albertsons hoisted picket signs above their heads and gathered in the courtyard in front of the downtown supermarket.
"What we want is a contract that helps makes ends meet," said Rigo Valdez, spokesperson for UCFW Local 770, which represents workers from San Luis Obispo to San Diego. "Because Santa Barbara — and all of southern California — is a very expensive place to live."
Photo Gallery
UFCW Workers Protest For A Living Wage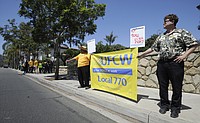 Valdez said the lowest-paid employee makes $10.20 an hour, and some part-time employees are only guaranteed 24 hours a week. "That is certainly not enough to live off of," he said. Negotiations with management are currently underway, Valdez said, and will go through the week.

Employees are looking for concessions in relation to compensation, hours, and scheduling, Valdez said. Currently, workers received their schedule for the following week on Friday, which is "not enough time to get advanced notice" to get a second job or to arrange childcare, Valdez said.
"This happens to be my supermarket," city councilmember Cathy Murillo said to a cheering crowd. "You workers make it come alive." A number of elected officials and their staff attended, including city councilmember Gregg Hart, Assemblymember Das Williams, and county supervisor Salud Carbajal, who is running for Congress. Candidates including Joan Hartmann (running for county supervisor) and Monique Limón (running for Assembly) and Democratic Party chair Daraka Larimore-Hall were in the crowd.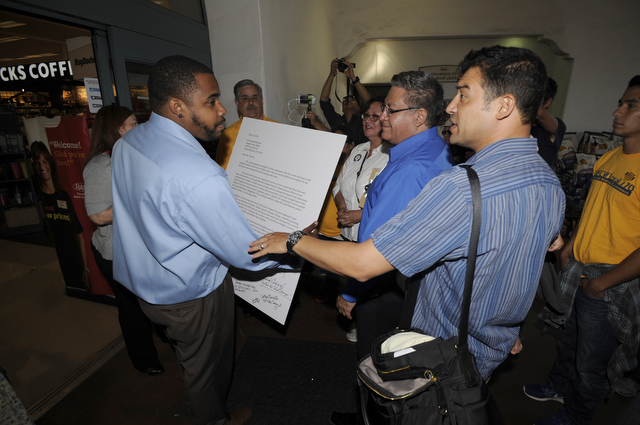 By Paul Wellman