Summer reading, traditionally associated with lighter fare and school assignments, has grown up in recent years. Once the preserve of blockbuster novels like Jaws or The Bonfire of the Vanities, publisher's spring and summer lists now often spawn unexpected best sellers such as Thomas Piketty's Capital in the Twenty-First Century, 700 pages of erudite economic analysis that flew off the shelves from Memorial Day to Labor Day in 2014. Despite this appetite for seriousness in a significant segment of the audience, it's likely that most summer readers still look for the literary equivalent of a holiday when selecting something for the summer ​— ​a book that will give them a break from more routine concerns and take them to places they haven't been before.
In an effort to capture some of the wildest new books on offer in the summer of 2016, what follows charts the rise of an interesting new form of radical nature writing in which authors document their attempts to become more like animals, or, as the popular meme has it, enter into "beast mode." Two major new nonfiction releases, GoatMan: How I Took a Holiday from Being Human (Princeton Architectural Press) by Thomas Thwaites and Being a Beast (Metropolitan Books) by Charles Foster, both involve what Foster in his subtitle calls "Adventures Across the Species Divide." They offer detailed accounts of a variety of experiments designed to allow the authors a kind of privileged access to what it is like to be an animal.
Apart from a fascination with what's on the other side of the species divide and a dedication to using real science to seek answers, the two books and their authors' approaches to the task could hardly be more different. Foster is a Fellow of Green Templeton College, University of Oxford, and a qualified veterinarian with a doctorate in law and medical ethics from Cambridge. He's also a married father of six and the author of previous books on biology, law, philosophy, travel, and spiritual experience. For the past several decades, Foster and his family have been participating in a variety of schemes he has invented to simulate the experience of being such animals as a badger, a red deer, a fox, an otter, and even a swift. By contrast, Thwaites comes to his GoatMan project from the world of design, and in particular from his own relatively short history as an expert on sustainability and technology. Foster, or at least his persona as a writer, knows a lot about nearly everything. He's as comfortable with tracing etymologies to Old Irish as he is citing the latest research from such journals as Applied Animal Behaviour Science, and he writes like a dream. Thwaites, on the other hand, plays his youthful naiveté for laughs, offering half a dozen stories about how shocked some expert or other was by his frequently abrupt and seemingly absurd inquiries. Yet once he's gotten a cloven hoof in the door, Thwaites proves to be a remarkably persistent researcher, and most of the people who scoff at him in the beginning end up becoming part of his team.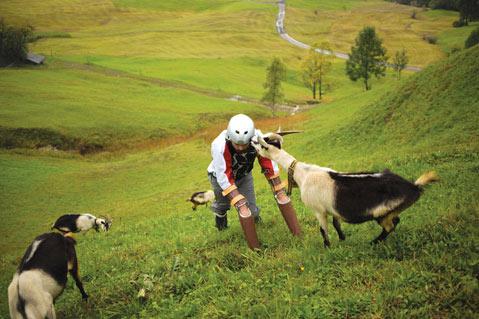 Tim Bowditch