For simply one of the best day hikes in our Golden State, consider tackling Sequoia National Park's Lake Trail. Often done as an overnight backpack and very popular on some summer weekends, the spectacular climb is deservedly a famed route and has the foot traffic to show for it. But the views are so epically sprawling and the lakes so soul-soothingly pristine that even big crowds are dwarfed in the majestic expanse of one of the West Sierra's best escapes.
The hike is a relatively moderate one by some Sierra standards and is doable as a day hike, but it's a bit of a huff if you do the whole thing. You likely should not attempt it if you are not in at least decent hiking shape — the altitude gain, rising 2,000 feet to almost above the tree line, will be felt all the more given the elevation, not to mention the eight-ten miles of round-trip traveling. Pace yourself and bring plenty of water, or a filter if you have one.
The trailhead begins at 7,280 feet, off Wolverton Road. The first mile moves gently through a green world of dense pine forests and, if you're lucky, blooms of leopard lily, stands of monkey flower, and carpets of mustang clover will add colorful flair to the forest splendor. Sunlight is reduced to mere beams in parts of this stretch, and it splays out into meadow-wide expanses in others. Through the trees you are afforded glimpses of dramatically glaciated Tokopah Valley, over which you soon will look.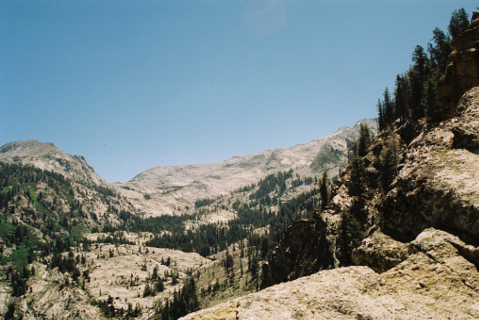 By Richie DeMaria