Todd Rogers, the cerebral half of the greatest men's beach volleyball team of the 21st century, assured that his 22-year pro career would end unostentatiously. "The AVP [Association of Volleyball Professionals] talked about a Kobe Bryant tour during the season," Rogers said. "I told them I'm not into that, and if they try it, I'll just stop playing."
So it was not until the last California tournament, the Manhattan Beach Open two weeks ago, that Rogers received a tribute. There were some highlights on the video-board, a recitation of his top moments by announcer Chris "Geeter" McGee, and a few words from his playing partners Dax Holdren, Phil Dalhausser, Ryan Doherty, Theo Brunner, and Stafford Slick. "It was just what I wanted," Rogers said, "nothing over-the-top."
It was with Holdren, a fellow San Marcos High grad, that Rogers won his first tournament at Minneapolis in 1998. He and Dalhausser teamed up in 2006 and dominated the domestic and international tours for seven years. They entered 128 tournaments, won 65, and had 102 podium finishes.
"The best move I ever made was choosing Phil," said Rogers.  "It was a tougher decision than you might think. I had won the last three tournaments [of 2005] with Sean Scott. Phil was not the best blocker in the world at the time." But the 6'9" Dalhausser, the "Thin Beast," turned into a monster at the net with Rogers, known as "the Professor," backing him up with heady defense and precise ball placement.
Rogers listed the highlights of his years with Dalhausser:
• Winning the gold medal at the 2008 Beijing Olympics.
• Becoming the first Americans to win the FIVB World Championship in 2007 at Gstaad, Switzerland.
• Winning the Manhattan Beach Open three years in a row.
• "Getting off the bridesmaid schneid" in his hometown, taking the Santa Barbara tournament title in 2006 after five second-place showings.
• Winning at Klagenfurt, Austria, in a scenic alpine setting that was his favorite place to play other than Santa Barbara's East Beach.
Rogers stood at the top of the podium for the 80th and final time in August 2014, after winning a small tournament in Varadero, Cuba, with Brunner, another former UCSB Gaucho.
There's plenty to keep the 42-year-old Rogers, a Santa Ynez resident, busy in the future. He is a husband and father, with a daughter and son both in their teenage years. He is the coach of the Cal Poly women's sand volleyball team. He was recently reelected to a second four-year term on the U.S.A. Volleyball Board of Directors.
Rogers said he might play in the final 2016 AVP tournament, September 1-4 at Chicago.  If he could have any influence on the AVP, he'd like to see the tour return to his hometown, which last held an event in 2012.
"Santa Barbara is a fantastic fit for the sport," he said, "but we're a vacation city, and the AVP business model is to play in big cities where corporations are involved."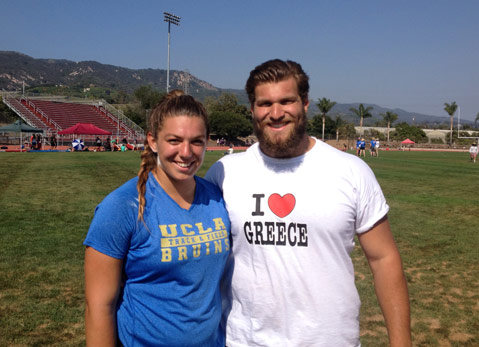 Van Latham