There is no question that the Santa Barbara Foresters have been the foremost summer-league baseball team in the western states for the past decade. Five times since 2006, they have brought home the championship trophy of the National Baseball Congress, dominating teams from Arizona, Colorado, Texas, Missouri, Kansas, Alaska, and Washington in the annual NBC World Series at Wichita, Kansas.
Bill "Pinner" Pintard, entering his 22nd season as the Foresters manager, has compiled a phenomenal record of 857 wins and 261 losses, a .767 winning percentage. He relishes a challenge, as he showed in 2008 when the Foresters played a historic three-game series against the Cuban National Team at Latinoamericano Stadium in Havana. They were the first U.S. team to play there since the Baltimore Orioles had visited in 1999. Cuba, the three-time Olympic champions, swept the series.
The Foresters will step out of their league this month to face another significant test ​— ​two games against the U.S.A. Baseball Collegiate National Team. The first game will take place Tuesday, June 28, at Dodger Stadium. The following day, they will play at UCSB's Caesar Uyesaka Stadium, the Foresters' home diamond.
Team U.S.A. will be priming for international competition in Chinese Taipei, Japan, and Cuba. Led by head coach George Horton of Oregon, it has culled the cream of the crop among young college players. Alumni of the team include such major-league stars as Kris Bryant, Max Scherzer, David Price, Will Clark, Nomar Garciaparra, and Todd Helton.
The Foresters have been a stepping-stone for 37 players who've reached the major leagues. They primarily have come from colleges like Texas and Nebraska with whom Pintard has established relationships. "I've been doing it a long time," the 68-year-old manager said. "I have the trust of the college coaches that when they send their players here, we're going to make them better."  
In the case of James Shields, the pitcher who's now with the Chicago White Sox, he came to the Foresters out of high school. Pintard said, "It was great for the community to be able to see James Shields pitching when he was 18 years old."
Santa Barbara's success in summer baseball can be attributed to two things that might be represented by the "F" on the team's caps: Fun and Family.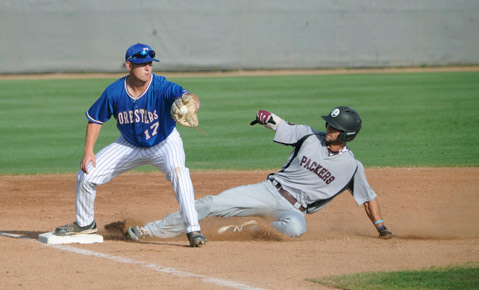 By Paul Wellman (file)