It's been about a decade since Santa Barbara's Funk Zone started shifting from a rag-tag manufacturing district home to hardscrabble artists and under-the-radar businesses into a bustling neighborhood full of eating, shopping, and, primarily, drinking options. But despite worries that the growth can't go on forever, the trend shows no signs of abating, and, last month, one of the Zone's most ambitious projects to date opened its doors.
Spread across more than 10,000 square feet of indoor/outdoor space on the 100 block of Santa Barbara Street, The Waterline is a multitenant, shared-space development with five distinct businesses that will serve up a combo of food, drink, arts, and crafts. It's the brainchild of young entrepreneurs John Goodman and Barrett Reed, who, along with Goodman's wife, Kassie Goodman, carefully curated the mix of tenants to offer hours of potential fun. "We wanted this to be a place where we would want to come ourselves," said Goodman. "Ideally, people start their nights here, and then don't have a good excuse to go anywhere else."
The tastefully redesigned space features the sort of urban-industrial, recycled materials, warm-wood-on-cold-stone motif that's familiar in much of the Funk Zone. The first two tenants, which opened on May 13, are The Nook, a walk-up, casual-yet-gourmet kitchen run by longtime Santa Barbara Master Chef Norbert Schulz; and the Lama Dog Tap Room + Bottle Shop, owned by winemaker turned retailer Peter Burnham. Opening on the other side of the building in August are tasting rooms for Blair Fox Cellars (including his Fox Wine Co., which he started in this same space when it was the Art Foundry) and Topa Topa Brewing Company (headquartered in Ventura), and The Guilded Table, a collection of art studio-galleries where visitors can see jewelers, photographers, leather workers, candle makers, and other artisans at work. There will also be areas for private and semiprivate dining.
For being just 31 years old, Goodman and Reed share quite the résumé. Friends since Santa Barbara Junior High, with dads who both loved old Porsches, they got into the classic-car-dealing business while still at Santa Barbara High School, and then attended USC together in Los Angeles, where they started flipping houses, too. They returned to Santa Barbara in 2007, leased the Santa Barbara Street property for their Goodman Reed Motorcars dealership in 2009, and tiptoed into the commercial real estate market as the Miramar Group, purchasing the half-block of Santa Barbara Street warehouses in 2012. After serving as a place for special events and the car dealership — which is now housed elsewhere downtown — they leased the Santa Barbara Street property in 2013 to a tenant who started the Art Foundry. But that managing tenant essentially disappeared in late 2014, screwing over a number of already booked event clients (such as brides and grooms), and left Goodman and Reed holding the bag.
"It was a terrible thing," said Goodman. "It cost us a lot of money, but it was an opportune time to do something here that really you can't do anywhere else in the Funk Zone because of parking."
The City of Santa Barbara's strict parking rules mandate adequate spaces for expected visitors, which can require very creative planning to get approvals. (Just ask the folks at The Mill.) But in the case of The Waterline, a former plaster-and-stucco business in the building next door burned to the ground during a dramatic mid-morning fire in 2011, leaving an empty lot. Today, at least as far as the city is concerned, that's where you park. "That allows for all these leases," said Goodman.
For such an ambitious project, The Waterline moved through the city planning maze rather silently over the past year, during which time Reed and the Goodmans vetted potential tenants, including some that the city nixed for various reasons. "We determined to commit to our vision, and it's been brutal because we said no to a lot of great tenants," said Reed. "It boiled down to what we see as an ideal mix." And businesses with strong regional connections were key. "You can't sustain in February unless you have local ties," said Goodman.
And the early signs are quite promising: Without much publicity at all, business is about double what was expected since opening in May.
See waterlinesb.com.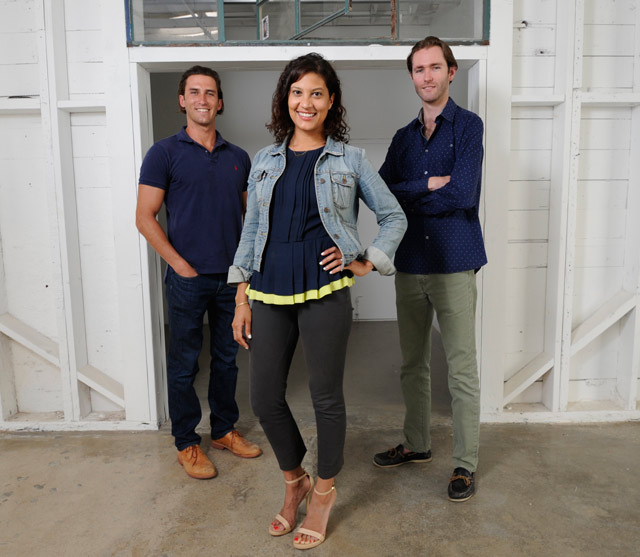 By Paul Wellman