The fire began just after 3 p.m. on a sunny Wednesday afternoon in a small lot tucked between two houses on La Scherpa ranch near the crest of Refugio Road in the eastern Santa Ynez Mountains. The circumstances were eerily similar to those during the 1955 Refugio Fire, which broke out on September 6, 1955, just a few feet from this fire.
Though the cause of the Scherpa Fire hasn't been made public yet, the focus has been on getting ahead of the blaze and slowing its rate of expansion down to the point that a combination of air attack resources, dozers, hand and engine crews, and hot shots can make a difference.
The air attack response was immediate — the heavy tankers, including a DC-10, helicopters, and smaller aircraft were on the fire within minutes. The Type 2 and 3 engines and dozers were not far behind. Firefighters focus every effort on putting maximum resources on the fire to slow things down so they can begin "building a box" around the flames using roads, dozer lines, hand lines, and the like to create a containment zone. In steep, rugged land like that along the eastern flank of the Santa Ynez Mountains, the challenge is immense.
The canyons line up from west to east: Refugio, Venadito, Corral, El Capitan, Gato, Las Varas, Dos Pueblos, and beyond to the Goleta Valley. The winds here have a tendency to push a fire to the east, and when combined with the sundowner winds that direct the force of the fire down-canyon and morning diurnal breezes that help push it back up-canyon, stopping the lateral move of the flames can be difficult at best.
The fire quickly began moving eastward across the upper part of Refugio Canyon, expanding within an hour from 20 to 150 acres, and when the sundowner winds hit hard, the flames quickly turned down-canyon, blackening the eastern Refugio ridgeline and upper Venadito within a half mile of Highway 101 before the sundowner effect began to subside. In Corral and Las Flores canyons the fire pushed even further south to within several hundred yards of the highway before the winds abated there.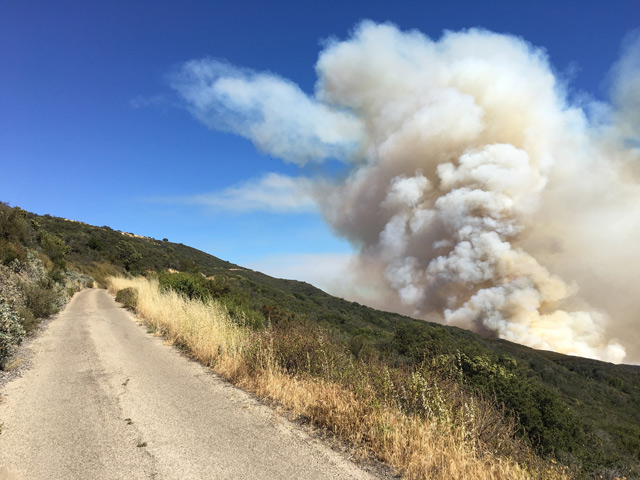 By Ray Ford