Reports of oil spilled in the Hall Canyon area in Ventura came into the Office of Emergency Services at 5:33 a.m. Thursday morning. The initial estimate of amount spilled was up to 5,000 barrels, but that has now been downgraded to about 700 barrels, or 29,400 gallons.
"The threat to forward progress has stopped," said Ventura County Fire spokesperson Heather Sumagaysay. There is no threat of the oil reaching the ocean, she added, though the U.S. Coast Guard has been notified.

Early this morning, oil spilled out of a 10-inch pipeline owned by Crimson Pipeline — the cause is still under investigation — down a canyon and into a dried creek for about a half-mile, Sumagaysay said. It is unclear exactly how the oil was stopped, she added. Ventura County Fire contained the spill in a drainage basin. The state's Office of Emergency Services hazmat crew was dispatched, and a Unified Command formed.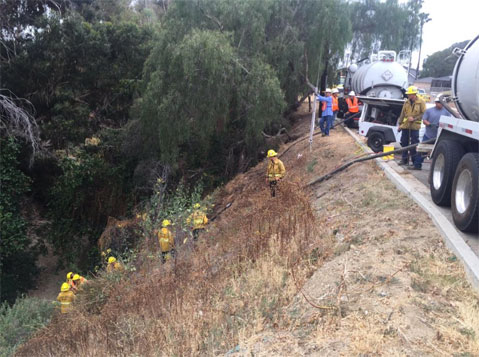 Ventura County Fire