The Santa Barbara Bowl is a local treasure; there's nothing else like it in town. It's a veritable Greek Theatre, a miniature Hollywood Bowl, tucked behind a quiet residential street ​— ​an entire, cavernous musical universe that opens up where North Milpas and East Anapamu streets meet.
In the past, many formidable acts have maximized the nearly 4,600-seater to deliver some amazing, memorable concerts. Joni Mitchell recorded her 1980 double album Shadows and Light at the Bowl; Tears for Fears videotaped a 1990 concert there. When Wilco played the venue in August 2007 during its Sky Blue Sky tour, frontman Jeff Tweedy, on the cusp of turning 40, revealed to his rapt Santa Barbara audience ​— ​in a cozy nocturnal scene highlighted by purple lighting ​— ​that this was his last night in his thirties. Everyone from Depeche Mode to Pat Metheny to Wolfmother has delivered rousing sets at this outdoor amphitheater, which has been nestled in a stonewalled shell on a pine-tree-covered hillside since 1936.
Despite its regard in Santa Barbara, the Bowl is still in need of discovery by out-of-towners. When Adam Sandler swung through in May to unspool a stand-up lineup of his broad comedy bros, actor Rob Schneider confessed to The Santa Barbara Independent that (despite being a longtime Angeleno) he had never actually visited the Bowl.
That's not unusual according to Moss Jacobs, longtime Bowl booker, and Rick Boller, Santa Barbara Bowl Foundation (SBBF) executive director, both of whom believe such myopia will soon fade fast thanks to the venue's realignment with music presenters Goldenvoice, these days under the aegis of formidable parent company AEG Live.
Last January, The Independent reported how Jacobs, who worked for Nederlander Concerts for nearly 15 years until November 2015, was returning to Goldenvoice, with whom he was employed during the late 1990s and early 2000s. The 2016 season is Goldenvoice's first since being reinstated as the Bowl's programming partner, and the most obvious change is volume and a genre-varied packed schedule. The Bowl stage has long been graced with everything from stand-up comedy to classical music performances, Boller explained: "The whole spectrum, which is important to us, especially in our small town." And according to Jacobs and Boller, things are just heating up.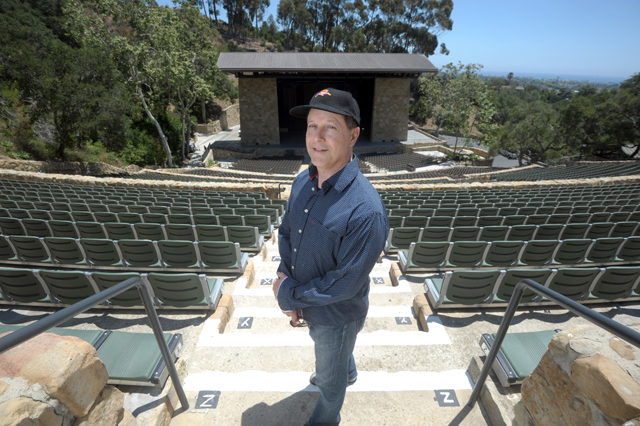 By Paul Wellman (file)