It was early last November, and Robert and Robin Jones were eating a late dinner with friends on the Greek island of Lesbos, their home away from home. Ahead was a small harbor bobbing with blue-and-white fishing boats; behind them, the one-street village surrounded by olive groves and sheep trails. Turkish minarets shimmered through the cold night air five miles across the Aegean Sea.
Suddenly they saw Greek coast guard officers sprinting toward the marina. The Joneses knew right away that another refugee boat had capsized. An ambulance arrived with doctors and stretchers. A crowd of villagers gathered to wait. Everyone had seen this all before.
The coast guard returned with a man and his two unconscious children, a boy and girl ages 3 and 5. Their mother had drowned. The family, fleeing a war-ravaged Middle East, had been crossing from Turkey to Greece in an overcrowded boat when rough waters threw passengers overboard. Medics tried but failed to resuscitate the little girl. The boy died on the way to the hospital.
These heartbreaking scenes are hard to talk about for Robert and Robin. The beautiful island of Lesbos, where they have lived on and off for 42 years, has now become a flashpoint for the refugee crisis sweeping Europe and Asia. But since last fall, when they returned to their home in Santa Barbara, they have felt compelled to tell their friends and community what they have witnessed: the tragedies as well as the faith, courage, and kindness displayed by the thousands of refugees and the volunteers who, like themselves, rushed to help in any way they could. "Everywhere was desperation and beauty," said Robert.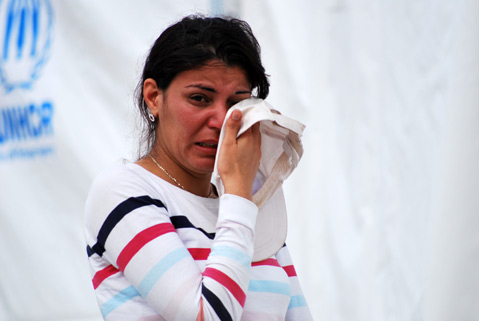 Robin Jones