The freezing sensation in your nostrils as soon as you step outdoors; your just-showered hair forming its own polar icecap upon your head; your fingers and feet, thickly gloved and socked, beginning to scream in pain. A walk below zero makes your thoughts shelter ever-further inward, cozying up against the hearth of your heart; yet even thinking feels exhausting. A moment drags to a minute, a minute to 20 in the slowing temperament of snow and soft light.
There I was in the forests of Finland, early in January. For weeks, daily temperatures barely rose above the 0°F mark — if at all. On some nights, it got as cold as minus-22°F, and that's before windchill. The days between barely qualified as such, instead transitioning from sunrise to sunset over five-six hours without a middle point, the light seeming to fall below the horizon almost as soon as it had ascended. Your own inner light and inner energy weaken too, outweighed by the heavy reality of oncoming and ongoing darkness.
Being an outdoors-lover, experiencing the frigid Finnish lands and atmospheres was a unique and unforgettable experience. The Arteles artist residency that brought me there was themed "silence, awareness, existence" — apt thoughts to carry with you into the quiet surrounding forests. Unlike Americans — for whom wilderness is a regulated freedom contained within discreet segments, cordoned by property lines, and protected by rangers and volunteers — the forests of Finland, covering over 70 percent of the land, belong to the Finns as a people. The Finns believe in jokamiehenoikeus, or Everyman's Right: the freedom to roam and enjoy the forests recreationally and to use its resources, so long as it does not damage the forest or a person's property. To them, the forests are a fact and fabric of the people, part of their culture and soul.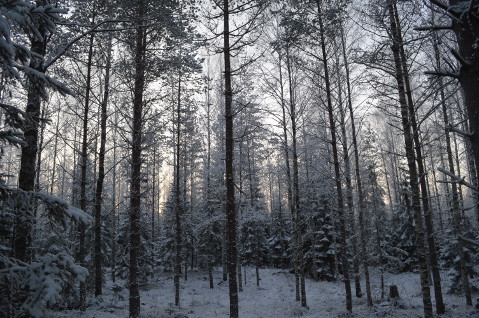 By Richie DeMaria