It was a moment frozen in time, the ball descending toward the basket as the clock showed 0:00. Stop it right there. Why not end it like Butch Cassidy and the Sundance Kid, the title characters still alive in the final frame? If that ball stayed in the air, most of the people who packed the Santa Barbara High gym would be granted their fondest wish: that the Dons' basketball season would magically go on forever.
This team captivated the community. After winning a league championship, the Dons streaked through the CIF Southern Section play-offs, capturing a title for the first time in 25 years (75-65 over Lynwood in the 2A Division final) and then beginning the state tournament with a rambunctious 102-68 victory over Selma. A spectator gushed, "This is more fun than an NBA game."
The second round last Saturday brought the Bonita Bearcats to J.R. Richards Gym, where a long line formed at the entrance 40 minutes before the tip-off. The crowd included resident celebrities Don Johnson and Billy Baldwin. They came hoping to see the Dons, 32-1, extend their school-record 28-game winning streak. (The 1970 team, led by Hall of Famer Jamaal Wilkes and Don Ford, another future NBA player, went 26-0 before losing in the CIF semifinals.)
But Bonita rewrote the script. Smooth-shooting Joe Quintana answered Bolden Brace's three-point bombs with distant shots of his own; the smaller Bearcats beat the Dons to loose balls; and the visitors forged an eight-point lead with just over a minute to play. The Dons rallied on a three-pointer by Ben Clay and a putback by Nick Busch. Down 70-67, they gained possession on a turnover. Reliable junior guard Ben Brown put up the potential game-tying three-pointer in the final second. It looked good, and then it didn't, bouncing off the back rim. The end.
The wayward bounce did not diminish 72-year-old coach David Bregante's pride in the Dons. "It was a phenomenal year," he said. "After 40 years, it was like the Good Lord decided, 'I'm going to give this guy one great team.'"
The greatness came from the bonding of five seniors — Brace, Busch, Clay, JM Cage, and Paul DeBruynkops — who played together joyfully. The skilled 6'5" Brace was the leader, destined to chase March Madness at Northeastern University, but everybody did his part.
It was rather a miraculous accomplishment for Clay to become part of that group. "He's improved as much as any player I've had," Bregante said. "He was one of 20 kids who tried out as freshmen, and he didn't make the top 12."
At the time, Clay was living out of a Toyota parked in the lot at the Santa Barbara Church of Christ. Tina Clay, his mother, could not afford Santa Barbara rent on her part-time wages at Sears. Tina said they were often able to stay at church members' homes. Ben would get up early to work out and shower at the YMCA. "We always had food," he said. "My sister worked at Carl's Jr. I'd get stuff at Fresh & Easy that I could put in the microwave."
The family came to Santa Barbara from Tehachapi six years ago because Clay's sister, Arlinda, wanted to enroll at UCSB. Instead, she went to Cal State Northridge to study accounting, but Ben was getting situated at the high school, and he and his mother decided to stay. After three years without a home, they found a place in Summerland through the intercession of DeBruynkops, Ben's teammate.
Meanwhile, Clay's game grew by leaps and bounds. He became a varsity starter as a junior, battling under the boards with a forcefulness that belied his medium size (6'3"). This past season, he expanded his shooting range beyond the three-point arc. "Ben spent hours working on his shot," Bregante said.
Tina Clay said her son "has always been a good kid. It's his nature. He'll jump out to help somebody push a car. He'll help people carry loads." That quality carried onto the basketball court, where Clay will help another player off the floor and have a friendly chat with a referee. Last year, he was chosen Santa Barbara High's recipient of the Phil Womble Ethics in Sports Award, which recognizes a junior athlete who adheres to the highest standards of sportsmanship.
"After the Selma game, a referee told our principal what a bunch of nice kids we have," Bregante said. Combine that with 32-2 and a CIF title, and it's a year to cherish.
LAST AMBER ALERT:  Amber Melgoza, Santa Barbara's Washington-bound senior, averaged 30.6 points in postseason games for the Dons' girls, who faced five of the strongest teams in the state. They knocked off Mater Dei and Torrey Pines and finished at 27-5. "We had a fantastic season against a much tougher schedule," said Andrew Butcher, the girls' coach. "Getting to watch Amber perform in these five play-off games is one of my greatest thrills as a coach."
PLAYING ON:  Westmont College has two teams in the NAIA National Championships, the No. 2–ranked women at Independence, Missouri, and the No. 25 men at Kansas City. UCSB's men, who had a nine-game winning streak snapped by champion Hawai'i in the Big West semifinals, have been invited to play in the eight-team Vegas 16 tournament March 28-30 at Mandalay Bay in Las Vegas.
PREP HOCKEY:  The Santa Barbara Royals ice hockey team will play for the championship of the inaugural L.A. Kings High School Hockey League on Saturday, March 19, at the Staples Center. The Royals (15-0-1) blanked the South County Aviators 8-0 in the semifinal game at Ice in Paradise and will face the Kern County Knights in the final.
S.B.
ATHLETIC
ROUND
TABLE
ATHLETES
OF
THE
WEEK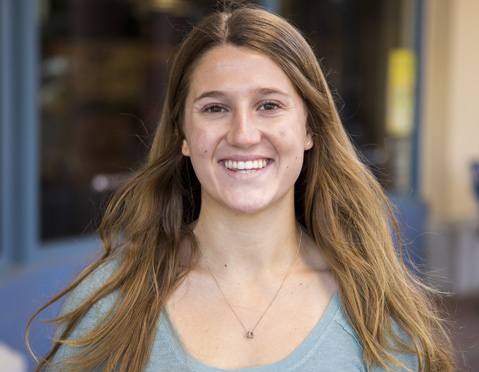 By Eric Foote