Warren Buffett's right-hand man Charlie Munger announced Thursday that he is donating $200 million to UCSB for state-of-the-art student housing, tripling the record gift he gave the school a year and a half ago.
Exactly what the dorms will look like remains unclear; Munger indicated he is only willing to donate the money if his design is followed.
At the UC Board of Regents meeting in San Francisco Thursday, the 92-year-old billionaire advocated for ultramodern student dorms to foster collaboration and academic success — like ones he helped bankroll at University of Michigan, among other colleges. "We're talking about a minor revolution," Munger, whose grandson attended UCSB, said, "but it's a revolution of absolutely standard features."
Munger's plan would leverage underutilized areas of campus and integrate the enrollment growth detailed in the 15-year Long Range Development Plan (LRDP), according to UCSB spokesperson Andrea Estrada. Munger's plan also includes a separate small housing project for about 300 couples on a five-acre maintenance yard site, Estrada added. The details of his plans remain unclear; Estrada declined to comment further, calling the design "very preliminary." The entire project is expected to cost $1.4 billion.

Munger stressed that there is "one huge catch" to his housing design: no windows — like Disney cruiseships' artificial portholes where "starfish come in and wink at your children," he said. " … No one can tell it's not a window," Munger asserted. "Our design is clever. Our buildings are going to be efficient." At the Munger Graduate Residences in Michigan, the individual bedrooms do not have windows but the common areas do.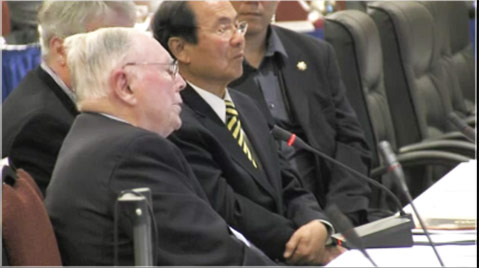 By Courtesy Photo