Last month, just before he turned 25, Russian pianist Daniil Trifonov made his recital debut in Walt Disney Concert Hall. It was "an evening of unforgettable playing," raved Los Angeles Times music critic Mark Swed. "He's a sensation."
In a piece of good fortune, Santa Barbarans can hear what the fuss is about on Thursday, March 24, when CAMA presents the Montréal Symphony at the Granada Theatre. Trifonov will be the soloist in Prokofiev's dazzling, virtuosic Piano Concerto No. 3.
Trifonov isn't an easy man to pin down, but he answered my questions via email between rehearsals in Montreal.
Your father is a composer, your mother is a music theory teacher, and your own musical life started at age 5 when they heard you "composing" a tune. Is it fair to say you were a composer before you were a performer?
It's true that I started as a composer, but once my whole family moved to Moscow to support my studies at Gnessin School of Music, all my efforts were concentrated on piano playing. When I was around 15, I started studying composition with Vladimir Dovgan at Gnessin and later with Keith Fitch at the Cleveland Institute of Music. Although now I don't have time to compose, I would like to devote more attention to it in the future.
Does being a composer make you a better player and vice versa?

It can help with realizing the underlying potentials of a piece. Often while editing my works, I feel limited by the selection of tools available to me to express the way I want the music to be performed. But at the same time, you don't want to provide an explanation of every note. A composer often doesn't want to overload a score with markings. You have to allow for spontaneity.
To me, the two recordings of Rachmaninoff playing his second piano concerto, both made in the 1920s with the Philadelphia Orchestra, are a good illustration of this. The recordings are quite different, and sometimes the composer plays the opposite of what he wrote in his score, in terms of tempo and dynamics.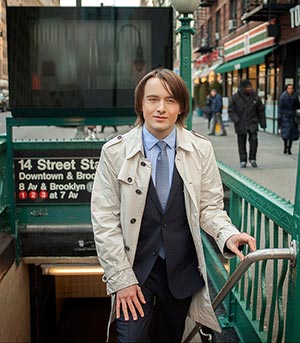 Dario Acosta