It is evident that UCSB's baseball team no longer has a clean-shaven requirement. "I got tired of it," said head coach Andrew Checketts, who sported a five o'clock shadow himself after the Gauchos opened their series against USC with a 10-1 victory last week.
The differing facial fashions of the players have had no effect on the team's unity or sense of purpose. The Gauchos were 18-4 through last weekend and are ranked as high as No. 11 nationally on the Collegiate Baseball Poll. They had a nine-game winning streak that was ended when USC salvaged the finale of their three-game series. Against the Trojans and UCLA, the Gauchos are 3-1 with a late-season game at UCLA remaining.
"It's nice to beat those guys," said JJ Muno, a second baseman from Hermosa Beach. "They get all the big-name high school recruits. Santa Barbara is a school unmatched in my mind. I wanted to be part of it."
Muno, a sparkplug-type of player on the field and running the base paths, had to wait his turn to become a Gaucho regular, as did two of the team's offensive stars, catcher Dempsey Grover and designated hitter Josh Adams. All three are redshirt sophomores; they sat out their first year in school, and they saw just limited action last year on a team that had 11 players drafted or signed by major-league organizations.
During their years as understudies, the younger players built up a supply of fuel, and now they are burning it.
"We're all in the same boat," Grover said. "We've spent two or three years getting better and getting hungry. To be part of that team of good leaders, we want their legacy to live on. We're starting to get at-bats, and we're able to win a lot of games."
Grover has grown a beard that may never disappear as long as he keeps making his at-bats so productive. He leads the Gauchos in hitting with a .421 average. "I keep that out of my mind," the catcher said. "I go up and plan to have a great at-bat. You can smoke the ball at somebody and make an out, but that's a great at-bat."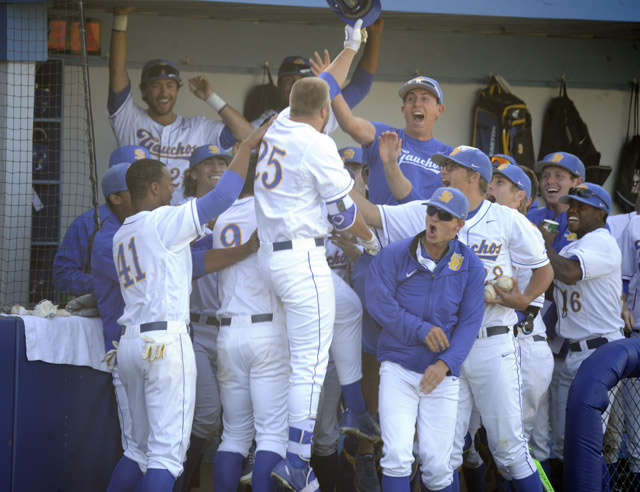 By Paul Wellman