Irvine is one of those towns that in real life resembles an architect's diorama. Glimmering glass structures drop down into lushly landscaped sidewalks. High-rise office buildings blend into perfectly designed neighborhoods. This pristine environment is enhanced by dramatic mountain vistas and a warm inviting ocean close by. Whatever reason takes you to this desirable area, the Hotel Irvine is ideally located for an overnight stay.
The Location
On this recent visit to the Irvine area, we were on our way further inland. New toll roads allow for effortless travel to and from here. San Diego, Temecula, and Palm Desert are all very accessible from this stopping point now. Irvine is right in the middle of Orange County and all it has to offer. Perhaps the best shopping in Southern California is minutes away at South Coast Plaza or Fashion Island. Balboa Island, Newport Beach, and Laguna Beach are also a short drive if a splash in the water is in your plans. Great hiking can be found at El Morro Canyon and Boomer Canyon.
The Hotel
Our room was on the 14th floor offering stunning views across the city with mountains framing the vista. Years of state emission controls have led to much clearer days throughout this part of the southland. The view stretches to the Cleveland National Forest on the east and Newport Beach to the south. The room itself had state-of-the-art electronics and an updated, oversized bathroom. The bedding was very comfortable, ensuring a good night's rest.
On this visit we had access to the Club Level service and made good use of it. Located on the top floor this lounge has an outdoor patio where you can see all of Orange County. The food service included drinks and lite fare in the evening (shrimp skewers the night we stayed), as well as a sumptuous breakfast to start the day. The Club Level allows for an elegant and quick breakfast along with a relaxed evening setting.
The hotel lobby is a grand meeting area with a flurry of activity. There are multiple food and drink options here with something for everyone. The Marketplace will fill all your on-the-go needs in a very healthy way just as Whole Foods might. The Red Bar and Lounge is very popular for meeting and greeting into the wee hours of the night. More serious dining fare is found at EATS Kitchen and Bar, where we dined. My Chilean sea bass was expertly prepared, and the service was spot on. EATS has indoor and heated outdoor dining.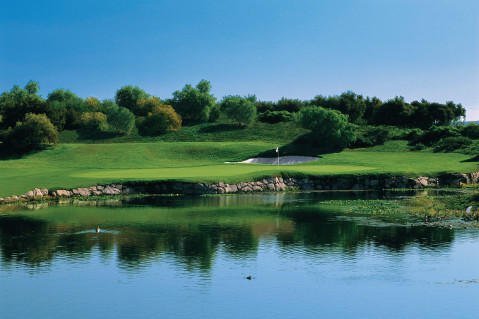 courtesy