Alzheimer's disease took Rusty Fairly out of public engagement during the last years of his life, but as a coach, teacher, administrator, and city councilmember, he made a lasting impact on the community.
"Rusty's love for Santa Barbara was special," said his longtime friend John Martony. "He was a one-of-a-kind, a great guy."
Fairly coached baseball at Santa Barbara City College from 1965-1981. "He was an old-school disciplinarian," said Martony, who was a pitcher for the Vaqueros. "He valued team baseball. Every pitch is important, every at-bat is important. Everything matters."
Not even a stunning blow to his midsection could keep Fairly from running the show. "He was standing by the dugout, and somebody taking swings with a bat caught him in the ribs," recalled SBCC equipment manager Pat Aguilera. "He says, 'I'm okay, I'm okay.' The next thing you know he's lying down in the dugout. Then he sits up and continues to direct the traffic and call the plays. He had a big welt and bruised ribs, but there's no way he was going to leave."
Fairly may have been rather subdued that day, but on other occasions he was full of fire. He famously smashed all of the Vaqueros' bats during a game against Ventura College, and they had to borrow their opponent's bats.
Fairly sometimes did leave a game by design. "We were dozing through an early double-header in Long Beach," Martony said. "There was a close play on the field, and I blocked Rusty's view in the dugout. He races out to the umpire and says, 'That's the worst bleeping call I've ever seen.' He got tossed, and that woke us up. We came back and won two. After that, I'd run through a wall for this guy."
Years later, when Martony was a play-by-play announcer for Cox community telecasts of high-school football and college basketball games, Fairly teamed up with him as color commentator. "He was the perfect broadcast partner," Martony said. "He was well-known in the city. He'd talk to the coaches about their game plans, and they trusted that he'd never give information away. He knew everybody when he walked upstairs to the booth. He'd say 'Hi' and pat them on the back."
Their partnership continued for 14 years until 2006, when foreboding signs appeared. "During a game, Rusty said, 'John, where'd I park my car?'" Martony said. "I told him not to worry, that after the game I'd look for it with him."
Flash ahead to October 2014. Martony was doing the radio broadcast of an SBCC football game when Rusty Fairly, in a wheelchair steered by his son Steve, made his last public appearance. "He came into the booth in the second quarter," Martony said. "I held his hand. I talked to him: 'This day's for you. Everybody's here for you.' He went out to the top of the stands at halftime. The football players saluted him with helmets in the air. It was the most beautiful thing in the world."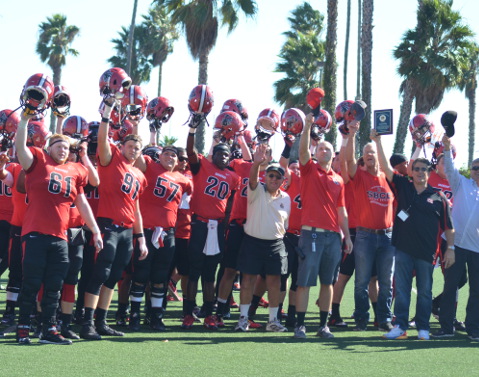 By Paul Wellman (file)