It was hard for Reverend Julia Hamilton to remain calm. The lead minister of the Unitarian Society of Santa Barbara traveled to North Dakota last week to witness the months-long standoff between state police and Native American tribes protesting the construction of an oil pipeline near the Standing Rock Sioux reservation. Tribal elders had warned Hamilton, along with 500 other participating religious leaders from all over the world, they would see things that would upset them. But it was important, the elders said, to retain their compassion for everyone involved ​— ​even the men in riot gear.
Soon after, Hamilton watched a small band of shirtless demonstrators ​— ​who call themselves the "water protectors," as they fear the 1,100-mile pipeline carrying Bakken crude will pollute the Missouri River and its tributaries ​— ​wade across a stream to reach a sacred burial site on the opposite shore occupied by construction crews. The police were swift and brutal. "I was struck by the disproportionate response," Hamilton said. "It's one thing to arrest someone. It's another thing to tear gas them, shoot them with rubber bullets, and throw them in the back of a van."
In her four days at Standing Rock, sleeping in a tent among more than 200 native tribes in their main Oceti Sakowin camp, Hamilton saw more ugliness. But she saw beauty and determination, too. "I was struck by the seriousness of purpose mixed with a deep sense of gratitude for the Earth," she said. "And the whole place was infused with prayer." The camp awoke at 6:30 every morning to a morning prayer following by water blessings and ceremonial singing. The clergy gathered in a circle one day to repudiate and burn copies of the Doctrine of Discovery ​— ​the papal bull that mandates the forcible conversion of native people. All the while, a police surveillance plane buzzed overhead.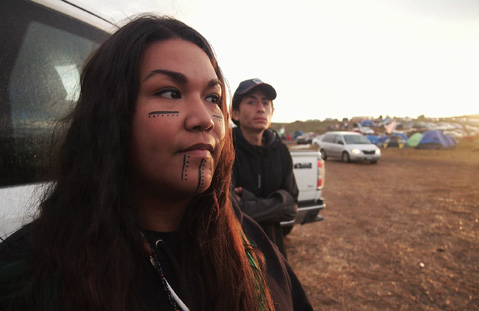 By Courtesy Photo