Adrian Macias wrestled his way out of a web of low expectations, and he wants to see the same thing happen to students who take up wrestling at Santa Barbara High School (SBHS).
"I was the youngest kid in a family of eight," Macias said. "I didn't see myself going to UC or the Ivy League." But in the wrestling room at Monrovia High, where Macias spent years practicing the sport, he entertained a new vision of himself.
"Wrestling really made me feel valued," he said. Every day, he looked up at a large poster on the wall. It depicted the legendary wrestler Dan Gable, along with his saying: "Once you've wrestled, everything else in life is easy."
Macias took those words to heart. After competing in high school, he wrestled for two more years at East L.A. College — winning his share of bouts, but taking his licks in others — and then he tackled higher education at UC Santa Barbara. He earned a teaching credential and a master's degree, and now he teaches social studies and American history at SBHS. This year he became head coach of the Dons' wrestling team after serving as a volunteer assistant.
Wrestling is not a high-profile sport at the school. Practices are held in a small gym next to the theater. "We had to move outside when a New York dance company used the gym," Macias said. He inherited heavy, old wrestling mats that were torn and tattered. To be adequately equipped, the program needed funds.
Enter Billy Baldwin, an actor who has said some of the most joyful times of his life were spent as a wrestler at Binghamton University in New York. He was a prominent spokesperson on the committee to preserve Olympic wrestling. And he is a Santa Barbara High parent. Although his own children are not on the wrestling team, when Baldwin heard about the needs of the Dons' program, he told Macias that he'd provide a new mat, a $15,000 investment.
The shiny, lightweight, easily portable mat was unfurled at the main gym last week. It will be in place when the Dons play host to Santa Paula in their season-opening dual meet on Wednesday, November 30. Also visiting J.R. Richards Gymnasium will be league rivals Dos Pueblos (Dec. 15) and Ventura (Jan. 10, 2017). On February 11, 2017, Santa Barbara will stage the Channel League Championships.
Dos Pueblos has long sustained an elite wrestling program in the region, founded by coach Mike Hart and continued by Anthony Califano for the past 18 years. San Marcos has had some prominent wrestlers, such as heavyweight Alex Mack, a state runner-up who is one of the NFL's top offensive linemen, a center for the Atlanta Falcons. "Wrestling gave me confidence," Mack once said. "It was a tough sport. Football was easier."
Macias said the Dons are ready to compete with everybody who comes their way. "It's the largest team we've had in at least five years," he said. It includes a defending league champion, Josue Vallecillo, a junior who will wrestle at 126 pounds this season.
Vallecillo confessed it was intimidating to venture onto the mat when he first tried the sport. "I was way too nervous," he said. "I'd fake injuries to get out of it." But as he kept at it, he gained confidence. "Wrestling develops your character. We do what nobody else does. I encourage kids to take it up."
Marco Guillen, a 132-pound junior, received encouragement from Vallecillo. "I fell in love with the sport," he said. "I know that the harder I work, the more I'll get out of it. It's a test of your willpower."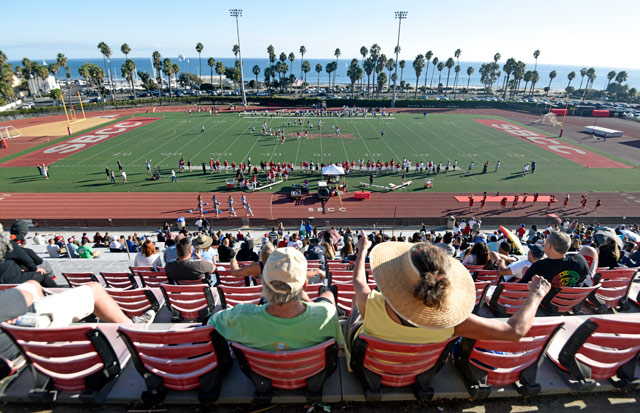 By Paul Wellman